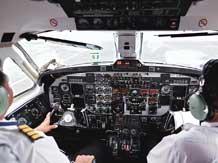 In the wake of the mysterious disappearance of the Malaysian Airlines flight, the Directorate General of Civil Aviation (DGCA) in India might make it mandatory for pilots to undergo psychometric (psychological) tests at regular intervals.

A DGCA official told Business Standard, "ICAO (International Civil Aviation Organisation) does not mandate compulsory psychometric tests for cockpit crew. However, we are considering framing some guidelines to check the mental fitness of pilots once every three or five years."

South Korea and Singapore do continuous assessment of their pilots' mental health -- as individuals, in groups, as well as with the family's help (once a year) -- to determine if there is any cause for concern.

DGCA does not mandate a routine check of pilots' mental fitness or ask for psychometric tests before airlines hire a pilot.

The Indian rules are largely in line with those of the US Federal Aviation Administration and the European Aviation Safety Authority, which do not mandate a regular mental fitness test.

The measure being considered might stir a debate, since some in the aviation industry believe regular psychological tests make little sense.

For, there is enough global scientific data to show the mental make-up of a person does not change after he is 18-20 years old. "The key is choosing the 'right egg' when he or she enters.

"If you make a mistake there, you are doomed forever," says a pilot of an Indian carrier.

Though there are no specified norms for mental fitness checks, most carriers in India voluntarily undertake a detailed psycho motor and psychometric test of their pilots before induction.

Carriers also undertake detailed background checks.

DGCA has made it mandatory for all airlines to have a crew resource management session every year.

Air India, for instance, organises refresher courses twice a year, during which CRM exercises are conducted.

Under one format, cockpit and cabin crew are grouped randomly and made to discuss the sequence of events in a flight and the areas where they could have erred.

"CRM exercises are important in a hierarchial set-up such as India.

It encourages inter-personal interactions and allows co-pilots to speak out.

They can question decisions where they feel the commander was wrong. CRM exercises also help in indicating signs of stress, work fatigue or abnormal behaviour," says an AI executive.

Airlines also sometimes assign supervisors for a group of 50-60 pilots, who interact with them frequently to gauge any behavioural changes.

Besides, extensive reporting systems are in place whereby anyone, from a ground staffer to a crew member, can report an unusual change in a pilot's behaviour.

A high level of absenteeism can also lead to a red flag.

The disappearance of the Malaysia Airlines Boeing 777 in the southern Indian Ocean had raised questions on airlines' role in assessing the psychological and mental health of their pilots.
Image: Pilots; Photograph, courtesy: Business Standard