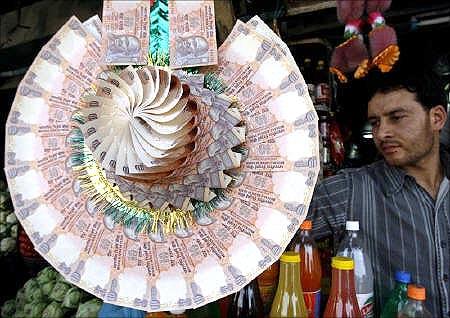 Expecting an annual CSR spending of Rs 15,000-20,000 crore (Rs 150-200 billion) by India Inc, Corporate Affairs Minister Sachin Pilot has asked companies to see the new law as an investment opportunity to create a better work environment, rather than a forced expenditure.
The Minister also said that the government has left the canvas wide open for the companies to decide on their own about the CSR (Corporate Social Responsibility) activities they wish to undertake to comply with the new norms.
He said the few areas prescribed under the law are only suggestive in nature and it should not be seen as a restrictive list.
Under the new Companies Act, 2013, which has replaced nearly six-decade old legislation governing the way corporates function and are regulated in India, all profitable companies with a sizeable business would have to spend every year at least 2 per cent of three-year average profit on CSR works.
This would apply to the companies with turnover of Rs 1,000 crore and more, or networth of Rs 500 crore and more, or a net profit of Rs 5 crore and more.
The new rules, which would be applicable from the next fiscal 2014-15, also requires the companies to set up a CSR committee of their board members, including at least one independent director.
"This money would not come to the government of India. It is the companies' money and they can spend as per the decision taken by the CSR committee of their board. But they must report the same," Pilot told PTI in an interview.
"Our assessment is that if every company that is qualified for doing the CSR does so, then Rs 15,000-20,000 crore would be spent in a year in various projects such as environment, skill development, water, sanitation etc.
"We have left the canvas very wide as we thought it would not be proper to make it restrictive," Pilot said.
The companies have been asked to give preference to their local area of operations for such CSR activities, while those not being able to spend the required amount would need to specify the reasons for the same in their annual CSR report.
According to the draft rules, which would be finalised after taking into account the suggestions from all stakeholders and the general public, the CSR should not be seen as "charity or mere donations".
It has been proposed that the CSR activities should not be exclusively for the benefit of employees of the company or their family members, while only those CSR activities would be taken into consideration that are undertaken within India.
The companies would need to create a CSR corpus comprising of 2 per cent of net profit, while any income from this corpus and the surplus arising out of CSR activities would need to be credited back to the CSR corpus. As per industry estimates, the mandatory CSR rules would apply to close to 9,000-10,000 companies.
The CSR committees of the respective boards of the companies would need to prepare the CSR policy, specifying the projects and programmes to be undertaken as also their execution modalities and implementation schedules.
The companies can collaborate or pool resources with others to undertake their CSR activities jointly and any expenditure incurred on such collaborative efforts would qualify for computing the CSR spending.
The government has also proposed to allow the companies to set up trusts or other separate non-profit entities to facilitate implementation of their CSR activities. Besides, CSR programmes can also be undertaken by the company through non-related trusts, societies, or other non-profit companies with an established track record of at least three years.
Activities which may be included by the companies in their CSR programme can be related to "eradicating extreme hunger and poverty, promotion of education, promoting gender equality and empowering women, and reducing child mortality and improving maternal health".
Other such activities can include combating human immunodeficiency virus, acquired immune deficiency syndrome, malaria and other diseases; ensuring environmental sustainability, employment enhancing vocational skills and social business projects.
The permitted CSR would also include contributions to the Prime Minister's National Relief Fund or any other government fund for socio-economic development and relief, and funds for the welfare of the Scheduled Castes, the Scheduled Tribes, other backward classes, minorities and women.
Pilot said that the draft rules have been framed keeping in mind the main legislation and the government would incorporate the public suggestions as much as possible. "India is the first country in the world to have CSR provisions in the statute.
"We have left it very open on how the companies would want to do their CSR. But at the same time, they must make public their CSR details public for the benefit of their shareholders and the public at large," he added.
Expecting full cooperation from the corporate sector on the CSR rules, the Minister said: "It is one thing to sponsor events like cricket matches and get some benefits out of the same. But CSR should be about creating goodwill.
"There is a perception of there being a trust deficit between the companies and the people of the area where large factories are located. There are concerns that the companies are making huge benefits through activities like mining etc.
"That perception needs to be corrected and the companies can create a good perception through their CSR initiatives."
"In a way, CSR can be an investment opportunity, as the companies would be able to create in their areas of operation a healthier workforce, people would have much less grouse, the community around the area would be happier and such an environment would produce much better output and would be much more conducive for doing business," he said.
Asked about the criticism that the government was pushing the CSR down the throats of the companies, Pilot said: "There are about one million companies in India, of which about 8.5 lakh are active companies.
"CSR is not mandatory for small companies or the companies which are just starting their operations, or the companies which are making very little or no profits. It is for the companies that are making turnover of at least Rs 1,000 crore, or have net worth of Rs 500 crore, or if they have made profits for the past three years.
"For such companies, it was thought that 2 per cent of their profits being spent on CSR would not be a big setback. Besides, many companies are already doing it. What we have done is that we have given it a formal structure and have made it mandatory to make disclosures about the same."
The Minister said he has no objection if a company earns money from CSR, if that is considered as a valid CSR activity by its board and the CSR committee, but the same must be informed to the shareholders.
"Some people ask why it has been made mandatory and forced on to them. My reply is that it might be mandatory, but there is also a provision that the companies that are not in a position to do CSR, can explain the reason for not doing CSR.
"We are going ahead with a positive premise that everyone would comply with these rules. This law has not been made just to catch the bad people, but it has been made with an aim that every company does such work.
"While it is up to the consciousness of the company, still there are checks and balances for non-compliances. There are provisions for penal action, but I do not want to start the whole thing with a negative premise," he said.
Asked about possible incentives, including tax benefits, Pilot said: "If a company is spending more than 2 per cent of net profit on CSR, I would be quite happy to support them, including with some taxation benefits.
"But, the mechanism for that would have to be decided by the Finance Ministry. It would entirely be the decision of the Finance Ministry on whether they would want to give some tax benefits for CSR activities," he said.
The Minister said that there have been demands from the industry for such tax benefits and he would look into them.
"This is a new concept and we would like to first see how this develops and then take a call," he said, while adding that some companies have gone to the extent of seeking 150 per cent rebate on CSR activities, "which means the government would have to pay them extra money for doing such work".