Union Civil Aviation Minister Praful Patel has invited Tata Group chairman Ratan Tata to foray into the sector.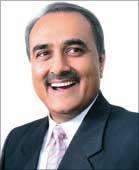 He said so in the wake of Ratan Tata revealing that the group's plan in 1996-97 to set up an international airline in collaboration with Singapore Airlines were thwarted by someone who wanted a bribe, something he wouldn't do.

"It is unfortunate that Mr Tata had a bad experience in the past. The ministry of civil aviation will welcome and objectively look into any foray by the Tatas into civil aviation," said a release from the ministry, quoting Patel.

But it is unlikely as before, that the Tatas would be allowed to come with a foreign partner. A source in the ministry said a proposal for any airline would be considered 'as per existing rules'. These do not allow any foreign carrier to own any stake in a domestic carrier. However, the rules allow foreign direct investment of up to 49 per cent in a domestic carrier.

The Tatas operated the country's first airline. It was later acquired by the government.