The first sign of trouble appeared in January this year. Fifteen-year-old Alzira's class teacher summoned her mother, Tina, and warned her that if current trends continued, Alzira would do poorly in the coming Class IX exam -- and that if that were to happen, Alzira would be held back from going on to Class X.

Tina, who lost her husband early, works and lives with us as our housekeeper. She visits Alzira, who lives with her grandmother an hour away, on weekends.

Alzira occasionally visits and stays over with us -- and, from all that I can see, she is a normal, bright child with exceptional talent in sketching and painting.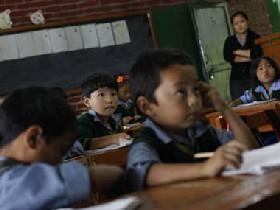 Faced with a potentially catastrophic situation, Tina swung into action. She enrolled Alzira in a three-month, Rs 6,000 crash course to catch up before the exam in March. When it was time for exams, Tina went on leave, stayed with her daughter, woke her up every morning at 3 am so that the girl could recite what she was supposed to know -- enough so that Alzira would remember the answers during the exam later that day.

This last-minute effort did not work. Alzira, and 23 others in her class of 68, were failed and told to withdraw from school.

The school does not charge fees for girls from Class V onwards, but that doesn't say much about the economics of educating Alzira.

All 68 students in her class attended regular school classes from 7 a m to 1.15 p m, after which they went to a tuition class from 3 p m to 6 p m, which cost each of them Rs 18,000 a year (about a fourth of Tina's monthly take-home).

A few children opted out of this group tuition and chose a private tutor, who gave them one-on-one tuition for Rs 25,000 (no typo; twenty-five thousand) a month. One of the girls who did this scored 92 per cent.

For Alzira and her classmates, the dreaded subjects -- and the ones that led to their failure in Class IX -- are algebra and geometry.

Watching this drama unfold, I thought I'd find out what it was about algebra and geometry that Alzira & Co found so off-putting.

The Class IX textbook of the Maharashtra State Board starts with a promising enough foreword from its chairman, saying that "the life of students at school must be linked to their life outside school", quoting the government's National Curriculum Framework 2005.

I opened the book at random and landed on the chapter on statistics. It opened with a chart with its x-axis labelled "matches" and its y-axis labelled "runs", and a series of paired bar diagrams with a note that said the chart "gives scores in matches by two cricket players".

Here
at last is a textbook, I thought, that lives up to the promise of linking the life of students attempting to learn statistics inside a school with life outside and our great national obsession, cricket. How better can you execute the National Curriculum Framework?
My hopes were dashed when I turned the next few pages. They launched into a business-as-usual recitation of the definitions of statistical concepts: grouped frequency distribution tables, class limits, class widths and so on.
The tantalising cricket example that the chapter started with had given way to page after page of mind-numbing definitions culminating with "solved examples" ("Observe the following bar diagram and answer what type of bar diagram it is").
I wept at the lost possibilities! Following up on its opening cricket example, the textbook could have listed the runs scored by, say, Sachin Tendulkar and Sunil Gavaskar in all the Test matches they have played and then it could have led the class to examine questions such as these: how often did each player score over 50 runs in a match ("grouped frequency distributions")?
How did each fare in matches played outside India compared to matches played in India ("sub-divided bar diagrams")? And who was the greater batsman of the two, by comparing how often each scored up to 20 runs, 26-50 runs, 51 or more runs in a match ("cumulative frequency distributions")?
It is staggering how the Indian social system subverts well-intentioned policy steps. Girl students from working-class families are not charged a fee from Class V onwards -- a great step to encourage them to stay on in school. But they are then socially pressured into paying tuition fees that take up 30 to 40 per cent of their parents' income.
Schools are prohibited from failing children in classes up to Class VIII; but they then mass-fail students in Class IX.
In India, there exists a world of upper-middle class children whose parents are college graduates, and who have a learning culture at home, and who sail through bruising entrance exams to our elite Indian Institutes of Technology (IITs) and Indian Institutes of Management (IIMs).
There is then the world of indifferent students from well-to-do families who pay heftily for private tuition to negotiate their way through school and follow that up with Rs 15 lakh-a-year undergraduate courses in British, Australian and American universities before they come back and join Dad's business.
And then there are children like Alzira, from working-class families, who are left to battle mind-numbing textbooks, indifferent teachers and forced to stare into the abyss once forced out of school at Class IX.