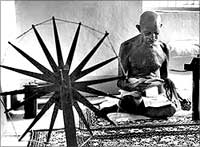 Coal India plans to buy the house in Johannesburg, where Mahatma Gandhi had lived for over a year, with an aim of building a memorial there.
"The coal ministry intends to purchase the house and build a memorial on it," minister of state for coal Shriprakash Jaiswal told PTI, adding directions have been given to the officials of the ministry to purchase the house 'at any cost.'
The minister said he, along with officials of Coal India Limited, will be visiting South Africa on August 17 in this connection.
Jaiswal will visit the house in Johannesburg and hold talks with the house-owner in a bid to purchase it.
"I came to know through newspapers that the house of Mahatma Gandhi in Johannesburg, where he spent some years, is up for sale," he said.
However, if any other person or Indian organisation plans to purchase the house and build the memorial, Coal India will back out, he said.
Asked whether Coal India, a department under his ministry, will buy all property belonging to great leaders, Jaiswal said they have no such plans.
The property in South Africa should be preserved in memory to the father of Nation and therefore the organisation is making an attempt to purchase it.
Situated at No 15 Pine Road in the peaceful and tranquil suburb of Orchards in Johannesburg, the thatched-roof rondavel-style house 'The Kraal'  was designed by Gandhi's confidant and architect Hermann Kallenbach.
Gandhi lived in this house between 1908 and 1909 while practising as an advocate and fighting racial discrimination in South Africa.
The owner of the house Nancy Ball, who has been living in the house for the past 25 years, wants to move to Cape Town and she has put the house on sale.
The selling price of the house, is understood to be more than $350,000.
The house has found many potential buyers, including Kitty Menon, Gandhi's great granddaughter.
On Coal India recently hiring the great-grand daughter of Mughal emperor Bahudur Shah, the minister explained that he was moved by reports that the woman was struggling for survival and had taken up to begging to make both ends meet.
However, he said, Coal India is not in a position to provide employment to all kins of freedom fighters.
Image: Mahatma Gandhi