The Centre for Monitoring Indian Economy (CMIE) has lowered its automobile production forecast by a percentage point to 9.6 per cent for this fiscal on account of a persistent higher interest rate regime, hike in taxes and the resultant increase in vehicle prices.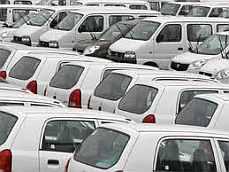 "Automobile production is expected to grow by a moderate 9.6 per cent this fiscal. This is lower than our earlier forecast of 10.6 per cent," the city-based economic think-tank said in its monthly report.

The rise in vehicle prices owing to the excise duty hike coupled with high interest rate and fuel prices have increased the over all cost of a vehicle, the report said.

This, coupled with concerns over slowdown in the domestic economy, is deterring consumers from making new purchases, it said.

"Taking these factors into account, we have revised downward our production forecast across all the
major segments of the automobile industry," CMIE said.
According to the report, commercial vehicles production, which clocked a healthy 19.8 per cent growth last fiscal, is expected to come down to 8.5 per cent in 2012-13.
While the light commercial vehicles segment is expected to do well, the medium and heavy commercial vehicle production may see a meagre 2.4 per cent growth amid rise in truck rentals and higher ownership costs.
On the passengers vehicle side, the report forecast upswing in production from the onset of the festival season, adding that the first half is expected to witness a slow growth.
"Production of passenger cars and vans is likely to rise 9.7 per cent this fiscal. However, production of multi-utility vehicles is expected to grow faster at 19.7 per cent aided by capacity addition and new model launches," the report said.
Two-wheeler production is expected to grow by a moderate 9.7 per cent during the year, it added.