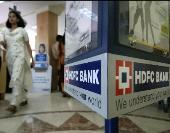 HDFC Ltd chairman Deepak Parekh on Thursday blamed the Rs 400-crore (Rs 4-billion) Citibank fraud to absence of specific guidelines for wealth management and expected regulators to come out with norms in this regard.
"I think wealth management has spread so much that in the last decade huge amount of wealth creation has happened in India. . . . .
"As a result, wealth managers and companies managing wealth for other people have mushroomed and there are no guidelines for that," he said.
Speaking on the sidelines of the 5th global summit of Vibrant Gujarat in Gandhinagar, Parekh said, "I think the government will come out with guidelines for the same".
He said the country should have good system and audits in place to prevent recurrence of such fraud.
At present, there are no specific regulations for wealth management for high net worth individuals and they come under norms for portfolio management by market regulator Securities
Exchange Board of India.
In December, Shivraj Puri, a relationship officer at the Gurgaon branch of Citibank was taken into custody for allegedly duping about 40 HNIs investors and corporate entities to the tune of Rs 400 crore.
A senior official of Hero Corporate Services Sanjay Gupta, has also been named as a co-accused in the fraud for allegedly getting Rs 20 crore (Rs 200 million) commission from Puri in lieu of arranging investments.
Vikram Pandit, the Indian-born global CEO of Citibank, and its chairman William R Rhodes, were also named in a separate FIR by investor Sanjeev Aggrawal, who lost about Rs 33 crore (Rs 330 million).
Police are still investigating the case.