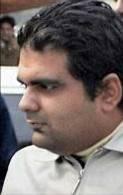 A local court on Thursday extended police remand of Shivraj Puri, the main accused in the Rs 300 crore (Rs 3 billion) Citibank fraud, by 6 days as police sought time to recover an iPad used by the mastermind to communicate with his clients.

Police also sought information from the National Stock Exchange (SSE) about the investments made by Puri through brokerage firms, including Religare and Bonanza.

The Chief Judicial Magistrate, D N Bhardwaj, remanded Puri in police custody for six more days after public prosecutor said that police needed more time to gather evidence in the case. Puri, who was a Relationship Manager at Citibank's Gurgaon branch, was arrested by the police last week after the Rs 300 crore scam was detected.

He was remanded in police custody for seven days. Opposing the application of the police for extension of custody, Puri's counsel Sartaj Baswana argued that remand was being sought to extract confession and fabricate documents. Baswana also moved an application for exclusive meeting with Puri.

"I have moved an application for giving legal assistance to him once again through the exclusion of police officials," he.

Police, sources said, are keen to get hold of Puri's iPad which could provide vital clues about the details of money transactions and contacts of Puri who is accused of luring high networth individuals to invest in bogus schemes on the promise of unusually high returns and diverted their money to stock markets.

Meanwhile, police requested the premier bourse NSE to provide details of sale-purchase transactions undertaken by Puri through different brokerage firms -- Religare, Bonanza and Norman Martin. Gurgaon Police Commissioner S S Deswal also said, "We are verifying contents of record with NSE with regards to transactions."

Most of the funds were invested by Puri into Nifty options -- a derivative product with the NSE benchmark index Nifty as underlying security, where the investor has no obligation to take the delivery and needs to pay only margin money. In this derivative, investors bet on upward or downward move of Nifty and returns depend on accuracy of such bets.

Victims of the Citibank fraud include Hero Group promoters (Rs 250 crore) and managing director of Helion Advisors Sanjeev Aggarwal (Rs 33 crore).

The police had earlier in the week arrested Sanjay Gupta, Associate Vice President of Hero Corporate Services for allegedly colluding with Puri and investing huge funds belonging to promoters of the Hero Group. Puri is reported to have paid a hefty commission of Rs 20 crore (Rs 200 million) to Gupta.