Major production houses like Reliance Entertainment and Viacom 18 seem to have come to the rescue of West Bengal's film industry, Tollywood, which had been feeling the heat as some chit-fund companies in the state went bust.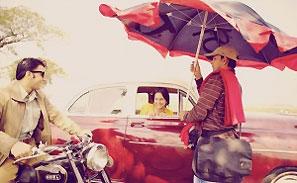 Anil Ambani-controlled Reliance Entertainment recently produced Bengali film Ganesh Talkies and another, Boss, is set for release. Besides, Viacom 18, a joint venture between Viacom Inc and Network 18 Group, has already completed a Bengali film with acclaimed director Neeraj Pandey of the A Wednesday and Special 26 fame.

The industry had seen itself in the middle of a crisis, with funds drying up, as many chit-fund companies, including Sudipta Sen's Saradha Group, had been putting in their money in movie production. On an average, 80 Bengali films are produced in a year. About 30 per cent of movies were being financed by these companies, which pumped in an average Rs 100 crore into the industry annually.

One of the key reasons for corporate movie makers, such as Reliance and Viacom18, to flock to Tollywood is the growth regional content has shown in recent times. Both the parties — production houses and film makers — see this as a welcome change that will increase the scale of business and open the doors of multiplexes for regional cinema.

Speaking to Business Standard, Viacom 18's Jayesh Muzumdar said regional content was where substantial growth was coming from and the scope to take it to the next level was immense.

"FMCG companies, too, have taken the regional route.
Venturing into regional cinema has helped our business achieve tremendous growth. While the film with Pandey is done, another one, with a renowned Bollywood film director, is in the scripting stage," said Mazumdar.
According to film maker Anjan Dutta, big corporate movie producers will enhance the scope for more meaningful movies to be made. "If we want to see our industry thrive, we need large companies. They know about the market and treat it seriously and professionally. A certain amount of clarity comes into the whole process; that's the need of the hour," Dutta says, adding the few existing producers were enjoying a monopoly and taking undue advantage of that because of the absence of serious players. According to him, the corporate influx would also mean that more Tollywood films would be screened at multiplexes, adding to business prospects.
Reliance Entertainment, which has co-produced Boss with popular actor Jeet, is betting big on Tollywood. According to its COO, Mahesh Ramnathan, more such films are on the cards. The company has not yet decided on the number of Bengali films it will make annually but Ramnathan indicates that it could easily be seven or eight.
"We have done some Bengali films that have won international awards. But our focus now is going to be mass-oriented films that will cater to the urban and semi-urban viewers. We want to have a firmer foothold in this market," says Ramnathan.
The production of a Bengali film roughly costs Rs 1-3 crore. Some multi-starrers, however, exceed this range. While a large chunk of revenue for these films still comes from standalone movie halls, the share of satellite rights are slowly, but steadily, increasing in their total revenue.