Bharat Heavy Electricals Ltd's Rs 2,000 crore (Rs 20 billion) investment plan for manufacturing solar equipment might become unviable if measures against dumping of Chinese items in the sector are not in place, according to sources.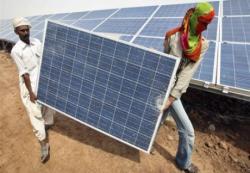 "The company is planning to put up an investment worth Rs 2,000 crore (Rs 20 billiob) in this (solar power) segment for manufacturing of silicon wafer, solar cell and solar module," a source in the know said.
"But then, this investment will be viable only if there is a minimum off-take which is guaranteed by the Indian industry and countervailing measures against dumping from China," the source told PTI.
The domestic solar equipment industry is grappling with tough market conditions, mainly on account of cheaper imports from China that are adversely impacting local players.
Dumping of cheaper Chinese gear is hurting existing players in the solar equipment manufacturing space, the sources said.
According to them, BHEL is working on renewable energy systems such as photovoltaic systems but faces issues of dumping of Chinese equipment at low prices.
The state-run major is looking to diversify its business activities, amidst challenging scenario in the power sector.
Against this backdrop, the company is focusing more on sectors such as defence, nuclear power, transportation and railways.
A raft of problems including acute fuel shortages and financial constraints are posing challenges for BHEL.
Besides developing its capabilities in the nuclear power sector, BHEL is strengthening its position in supply of locomotives to the railways. It is also working on water desalination systems.
The company has an existing order book of Rs 1.30 lakh crore (Rs 1.3 trillion).
During the 2011-12 fiscal, BHEL raked in a net profit of Rs 7,039 crore (Rs 70.39 billion) on a turnover of Rs 49,244 crore (Rs 492.44 billion). In the same period, the entity's net worth stood at Rs 25,373 crore (Rs 253.73 billion).