China's overall trade touched $2.68 trillion in the first 11 months of the year, up 36.3 per cent year on year.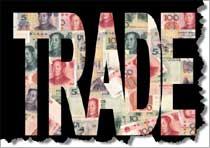 The figures were released by the country's General Administration of Customs on Friday.

Despite the debt crisis, the EU remained China's largest trade partner, with EU-China trade increasing 33.1-per cent year on year in the first 11 months to $433.88 billion, it said.

China's trade with the United States rose 30.2 per cent year on year to $346.89 billion in the January-November period while China-Japan trade jumped 31.7 per cent year on year to $267.79 billion, GAC said.

China's exports registered a huge 34.9 per cent rise in November to $153.33 billion in value terms, even as its trade surplus declined due to high imports.

According to GAC, imports last month jumped 37.7 percent to $130.43 billion.

Projections suggest that China's export growth would decline next year.

The country's trade surplus fell to $22.89 billion last month from $27.1 billion in October, the GAC report said on Friday.

The October surplus was the second highest of the year after July's $28.73 billion.

Combined exports and imports totalled $283.76 billion last month - a new record high - compared with $273.09 billion in October.

The higher-than-expected exports were a result of "seasonal factors," said Beijing-based Huarong Securities analyst Xiao Bo, referring to the increase in orders ahead of shopping seasons.

Xiao expects Chinese export growth to fall in early 2011 as imports increase at a steady pace, causing the nation's trade surplus to further shrink.