As India and China look forward to firm up their diplomatic relations, Industrial Commercial Bank of China announced that it would open its first branch in India to meet long-term demand of Indian business houses.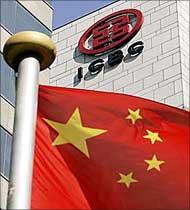 China's largest bank the Industrial Commercial Bank will open its branch in Mumbai later this year, officials here said.
The Chinese bank is in the process of securing the necessary permits to open the Mumbai branch, they added.
With trade worth billions of dollars going on between the two nations, it is necessary that they open their banks in each other's countries, CEO China M V Rabade said at the India-China Development Forum held in Beijing, which was organised in connection with the 60th anniversary of diplomatic relations between the two countries.
He said it will be better for Reserve Bank of India and People's Bank of China to establish banks in each other's countries to avoid trilateral involvement.
The move by ICBC to open its branch in Mumbai follows a recent permission given to State Bank India branch in Shanghai to lend in local Renminbi currency. The Indian companies could gain credit access to about a billion Yuan (about $200 million) from SBI without depending on the local banks.
Twelve Indian banks operate in China with various levels of licenses.
On the trade front, Indian officials here are upbeat as trade volumes are up by 74 per cent during the last two months in 2010 compared to last year.
In 2010, Indian exports touched $3.49 billion against China's $5.49 billion.
Last year, trade volumes between the countries fell to about $43 billion from the high of about $52 billion in 2008 due to the global downturn.
Trade ties between India and China have undergone significant transformation in the last two decades.
"Our engagement is broader and the relationship has acquired more substance. From being an insignificant player, China has become India's largest partner with $52 billion of goods traded in 2008," First Secretary of Trade and Economic section of the Indian Embassy K Nagraj Naidu said while speaking at the forum.
"Quantitatively, the two countries met their target of $40 billion three years ahead of schedule and seem on course to reach the USD 60 billion level by 2010," he said.
Naidu added, "Superficially, the imbalance in trade by itself appears to have given rise to concern in India. But international trade not always being an exercise in balancing, this unease actually reflects the composition of Indian exports and perceptions regarding market access."
India, which is otherwise competitive in manufacturing and services, finds that commodities and raw materials comprise 75 per cent of its exports to China.
"Even that could be called into question as India's own domestic consumption of these resources increase in coming years," he said.
"Our Chinese partners, for their part, contend that Indian products are not adequately competitive in China or that Indian companies have not devoted sufficient energies to make an impact on the market," he said, adding that, "When both countries have so much at stake, it would not be fair to the Chinese side that they should be expected to work on these solutions by themselves. Indian business should, therefore, not only be energetic but also creative," he said.
But overcoming regulatory impediments to the expansion of our trade is another priority, he said adding that in the pharmaceutical sector, Indian companies seek faster approval for solutions for the Chinese market.
Efforts to address phytosanitary obstacles for the export of fruits and vegetables from India have made very slow progress. This only enhances negative perceptions about China.
It is in our mutual interest to ensure quick breakthroughs," he said adding that "the challenges that the two countries face need solutions, not additional complications."
Export of Chinese engineering project to India is welcome.
However, such projects need to be implemented in a harmonious manner taking into account local sensitivities and localisation needs, he said.