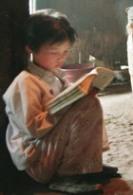 Gearing up to reshape its export oriented economy to that of the one driven more by domestic consumption, China plans to rise the income level of its poor from $176 to around $200, amid criticism that it may not be enough to improve the lot of large section of Chinese rural population living below the poverty line.

China says it will raise the poverty line by a "big amount" as part of its effort to spread the wealth more equally, but the public are not entirely convinced, a report in the state run China Daily said. China set the current poverty measurement level index of 1,196 yuan ($176) per capita annually in 2009.

"Nonetheless, some people are saying the current standard fails to reflect the country's economic development and rising standard of living", it said. The 1,196-yuan level is just 23 per cent of the annual per capita income for rural people in 2009.

An official of China's National Bureau of Statistics said "the new poverty line should be raised to between 1,300 yuan ($196) and 1,400 yuan ($212), which would take into account both basic living costs and requirements for a healthy life, including education and healthcare."

No timetable has been set for the new policy to come into effect. At the end of 2009, China had 35.97 million rural people living below the poverty line which amounted to 3.6 per cent. But, as many as 150 million Chinese who lived on less than $1.25 a day were regarded as poor by the internationally accepted guidelines of the World Bank.

That number fell from 10.3 percent of the population in 2004 to four per cent in 2007, according to the World Bank.
Wang Xiaolin, chief of the research unit at the International Poverty Reduction Centre said "the definition of poverty includes many things. In addition to low income, people lacking other basic protections such as education, medical care, and safe drinking water are also regarded as poor."

The ruling Communist Party of China, (CPC) just approved a five year plan to raise incomes faster across the country and keep them growing at the same pace as the economy and productivity.

The government says that it plans to improve the wages at the lower level to increase the income scale and to bring about significant reduction in the number of people living below the poverty line.

The government also stressed the need to work for a more balanced regional development and urbanisation over the next five years. This proposal will have to be approved by the National People's Congress, China's top legislature, when it convenes its annual session early next year.