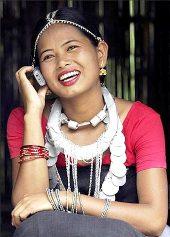 China made it mandatory on Wednesday for cell phone users to provide identification before purchasing a new connection, in its latest campaign aimed at curbing the scourge of spam, pornographic messages and fraud on mobiles.
Mobile phone customers all over China will now have to present ID while purchasing a new number, the official media reported.
Till now, mobile phones could be bought by both local and foreigners from the countless roadside shops without producing any identification.
From Wednesday, street newspaper stands will be banned from selling SIM cards.
While locals have to produce their identification, foreigners will have to register with their passports or other ID proof in order to subscribe to mobile phone connections, China Daily said.
Subscribers, who did not provide ID when they registered before the new regulations came into effect, were now being encouraged to do so, the Ministry of Industry and Information Technology said.
State-run Telecom operators, including China Mobile, China Telecom and China Unicom said they would follow the new rule. Interestingly, while publishing the new rule, China Daily referred to similar curbs by India, including New Delhi asking BlackBerry to part with the encrypted data.
For a number of years countries like India, Japan, Australia, and Singapore have demanded ID for registration in an effort to tackle crime.
Last month, the Indian government said it might ban some BlackBerry messaging services as they could be used for terrorism or other illegal activities, the daily said in its report.
Critics say that the new rule by the Chinese government was aimed tightening the government's hold as the country's mobile connections reached the 800 million-mark in June this year.
As many as 320 million did not provide ID information, said Chen Jinqiao, deputy chief engineer from the China Academy of Telecommunication Research, which will ask the government to monitor their phones.
A government-backed spam mobile message complaint centre said last month that mobile users in China on average received 43.3 messages weekly in the first half of this year and 12 of them were spam.
The centre also said 74.5 per cent of users surveyed received messages involving fraud.
The new rule may affect thousands of small-time business people in China, who made a living selling the mobile telephone cards.