A Chinese court has upheld a death sentence for a billionaire, who hired two people to murder a former business partner.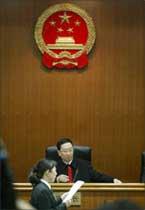 The Heilongjiang Provincial Higher People's Court said that it rejected the appeal of Wang Wenxiang, founder and chairman of Xinheng Group, his secretary Bai Peng and migrant worker Yu Yi as the verdict at the first-instance trial was based on sufficient evidence, the Xinhua news agency reports.
Wenxiang was convicted of having contracted the killing to Peng and Yu on December 18 last year. The three were also ordered to pay yuan 340,000 in compensation to the family of victim Zhong Yishi, who ran a construction company that began doing business with Wang in 1999.
Wenxiang and Yishi fell out over defaulted payments for a project that ended up in court in 2004.
In December 2008, Yishi brought another lawsuit against Wenxiang regarding ownership of a property, which motivated Wang to plan the kidnapping and murder.
Peng and Yi were caught on videotape strangling Yishi to death in an underground car park on May 18 last year. They then drove the corpse to an abandoned brick kiln, where they took yuan 4,000 from the body before burning it.