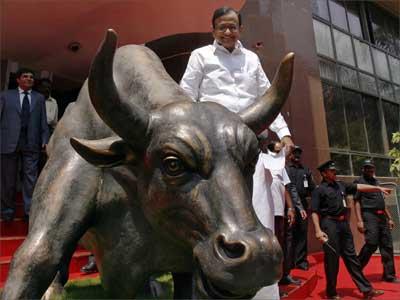 Finance Minister P Chidambaram will woo foreign investors to invest in India as he begins his nine-day visit to the US on Tuesday.
He will be in the US to attend the annual meeting of the International Monetary Fund (IMF) and the World Bank.
The visit comes at a time when the US is facing a shutdown over the federal Budget and debt ceiling.
Though there are no immediate fears of a flight of capital from the emerging markets as the Federal Reserve might not start tapering its $85-billion a month bond-buying programme till January, India would try to convince investors to stay invested in the country and get higher returns.
As India's foreign exchange reserves have dipped by $15 billion since March, to $276 billion as on September 27, the finance minister will meet foreign institutional investors and hedge fund managers in San Francisco on October 14.
He is likely to assure investors that the fiscal deficit and current account deficit this year would not breach the target of 4.8 per cent and 3.7 per cent of gross domestic product, respectively, and the economy was expected to grow at a higher pace after falling to a decadal low of five per cent in 2012-13 and expanding by merely 4.4 per cent in the April-June quarter this year.