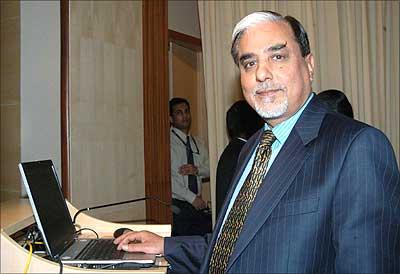 Zee group's demerged entity, 
Dish TV India
on Wednesday ended its first day with 10.86 per cent discount over its base price of Rs 115 per share on the Bombay Stock Exchange.
After getting listed at Rs 120, also its intra-day high, Dish TV steadily lost steam and was at one point trading at Rs 100 per share.
It staged a minor recovery later and closed at Rs 102.55, over Rs 14 less than its base price, data available on the BSE shows.
Over 1.88 crore (18.8 million) shares of Dish TV exchanged hands on BSE. On the National Stock Exchange, shares of Dish TV closed at Rs 101.40, over 11 per cent less than its base price.
After listing at Rs 114, shares touched intra-day high of Rs 117 and lows of Rs 100 per share as over 3 crore shares were traded at the Dish TV counter.
The company, which manages the direct consumer services business undertaking of Zee Entertainment Enterprises Limited (ZEEL), entered the bourses today with over 42.82 crore (428.2 million) equity shares of Re 1 each fully paid-up issued pursuant to the scheme of arrangement.
The scheme of arrangement was approved by the Delhi and Bombay High Court vide their orders dated December 18, 2006 and January 12, 2007 respectively.
According to the scheme, Dish TV allotted 5.75 equity shares of Re 1 each fully paid-up for every 10 equity shares of the same value held in ZEEL.
Likewise, the issued, subscribed and paid-up capital of the company after the scheme of arrangement was pegged at Rs 42.82 crore. -- PTI
Photograph: Arun Patil