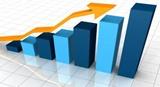 Adding shine to the momentum of economic recovery, the Confederation of Indian Industry Business Confidence Index (CII-BCI) has predicted a return to better business conditions than before the downturn. The index for the period between October 2009 and March 2010 surged by a robust 7.4 points to 66.1 points, against a mere 2.4 point increase during the first half of the financial year.
Most of the major economic indicators are also pointing to a revival with the industrial output index of the government rising 10.4 per cent in August. The purchasing manager's index compiled by HSBC also showed a recovery in September when it stood at 55. A reading over 50 in PMI signifies expansion.
The CII-BCI, brought out twice a year, is derived from an average of the current situation index (CSI) and the expectations index (EI). Both indices have fared better than the previous six months ended September 2009. However, EI outscores CSI, which is marred by uncertain global outlook and slack in consumer demand. BCI stood at 66.1 which is higher than even the pre-downturn period of April-September 2008-09, when the index was at 61.
Moreover, with industrial output already touching double digits, prospects are set to improve, as 70 per cent of respondents expect an increase in the production, while 78 per cent expect an increase in orders. Eighty per cent expect an increase in sales, while 52 per cent feel that more capital will be spent on capacity expansion in the October 2009 March 2010 period.
Export prospects also add to the optimistic fervour as 90 per cent of respondents expect no dip in exports during the period. Exports, which have been declining since October 2008, saw a 19.4 per cent fall in August 2009.