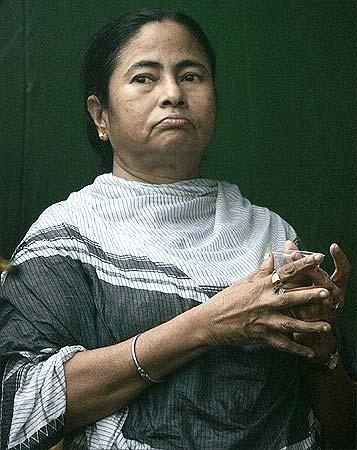 Amid expectations of improvement in railway amenities and food served in trains, Railway Minister Mamata Banerjee would present a 'pro-people' budget in Parliament on Friday.
"It will be a pro-people budget, a simple budget, people's budget," Banerjee said.
According to sources close to her, the budget in a way would reflect Mamata's vision for the Railways in the coming years and means of generating resources for key projects.
High on her agenda would be completion of Kashmir rail link project and putting the dedicated freight corridor project on fast track.
As she has gone on record saying that Railways should always have a humane side to it, she is expected to carry out some revision in passenger fares and waive off superfast charges that has come in for flak.
She might also announce changes in the Tatkal scheme to make it more passenger-friendly.
The sources said Mamata would be constrained to avoid a deficit budget especially when the burden of the Sixth Pay Commission has to be fulfilled for which Railways have to fork out Rs 14,000 crore (Rs 140 billion) for implementing it.
Nonetheless, Mamata might extend incentives in freight transport to boost loadings and keep the industry happy in the time of recession, the sources said.
She might also push for carrying out railway projects under public-private participation model for which she has already made her stand clear.
Admitting that the expectations from her budget were high, she said she barely got 15 days to work on it as the officials concerned were busy preparing it.
The budget is likely to see introduction of more Janata type and superfast trains on the lines of Garib Raths albeit with different names.
Besides, the budget might also find a mention about re-introduction of economic food items at stations like poori-sabzi.
The budget might give a further push to several other railway projects including expediting work on railway coach factory in Sonia Gandhi's constituency at Rae Bareli.
While the ongoing work for world class stations would be accelerated, Sealdah in West Bengal is likely to be added in the list for modernisation of stations.
The resumption of construction work between Katra and Qazigund section in the Kashmir rail link project is also likely to be announced in the budget.
The work has been stopped in the 70-km-long due to the alignment problem since last September.
Mamata has also said that the budget was being prepared in accordance with the situation of Railways at present in the country.
Announcement of more rail overbridges and rail underbridges at unmanned level crossings to curb accidents may also find a mention in the budget.
Introduction of integrated security system at major stations to strengthen security might also be announced.
Access control, baggage screening, CCTV installation and bomb detection and disposal system are to be introduced as critical component of the integrated security system at stations.
Filling up of vacant posts in the RPF and modernising the fleet along with providing special training to the forces in view of the enhanced security threat perception is also expected in the budget.
While the usual announcement of new trains and new lines are to find mention in the budget speech, more emphasis could be given on passenger amenities, sources said.
There were complaints against non-availability of food at reasonable rate at railway stations and also the quality of food available in trains.
Flooded with increasing complaints of late running of trains, Mamata might also lay focus on punctuality of trains.
Besides, capacity enhancement at existing railway production units, some new projects in West Bengal might also find a mention in the budget.
She is also likely to announce the scrapping of side middle berth in passenger trains besides taking a decision on weeding out certain unpopular trains.
The 139 country-wide passenger information service is expected to be made more user-friendly.
Keeping the shortage of porters in mind, the budget may see announcement of engaging more porters in stations.
Railways may also announce uplinking trains with satellite to know their exact position to provide accurate information on real time basis to passengers. - PTI
Image: Mamata Banerjee addressing a rally in Kolkata.
Photograph: Parth Sanyal/Reuters