Though the annual Budget primarily deals with country's finances, the policies directly affect finances of an individual, especially the salaried and small entrepreneurs.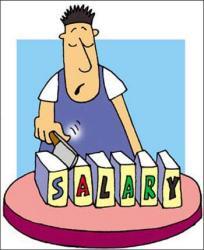 The following are some important expectations of small tax payers from this year's budget:

Increase exemption: The current I-T exemption limit of Rs 200,000 is low considering inflation has continued to remain stubbornly high.

Government should increase this limit to Rs 300,000 for men and Rs. 350,000 for women, in order to increase disposable income in the hands of taxpayers.

Allowances like transportation (Rs 800 per month), education (Rs 100 per month per child up to two children), hostel (Rs 300 per child up to two children) are archaic. These allowances should also be revised to be more practical and reflect current price levels.

Reimbursement of medical expenses: Currently pegged at Rs 15,000 per annum, Finance Minister needs to hike this as healthcare costs are escalating.

Home Loan Repayment: Principal repayment of home loan is included under Sec 80C deductions. This section is one of the most used sections by taxpayers, and is mostly fully utilised, without even including the principal amount.

Hence the amount deducted towards principal often doesn't qualify for tax deduction. There is a wide demand that principal repayment should be included under a separate provision of the Income Tax Act to get additional benefits.

Another aspect of home loan is interest repayment. Interest repayment eligible for tax deduction is restricted to Rs 150,000 per year, which is deductible under Sec 24(b) of the Income Tax Act.

Since real estate prices have sky rocketed over the past few years, interest paid per year far exceeds this limit every year for most homebuyers. It is hoped that an increase in this limit will be announced in this year's Budget.

Section 80C: The limit under this section is fixed at Rs 100,000. With the number of investment avenues included under this section being plenty, it is very easy for a person to exhaust this limit in a year, by investing in various eligible instruments.

This limit should be increased at least in this year's budget to a more realistic amount.

Infrastructure bonds inclusion: These bonds, which had tax exemption up to investments worth Rs 20,000, were removed from the Income Tax purview.

FM needs to restored in, as the infrastructure sector is also is need of substantial funds for expansion.

National Pension Scheme: Income from the National Pension Scheme is currently taxed on an EET (Exempt-Exempt-Taxable) system, which means withdrawals are taxed even though contributions and returns to the NPS are not taxed.

Changing the status to EEE (Exempt-Exempt-Exempt) system means tax exemption will be available at all three stages - investment, appreciation, and withdrawal. This will go a long way in enhancing returns of the retired who have invested in this scheme.

Savings bank accounts: The interest you earn on savings bank accounts is exempt from tax up to Rs 10.000 per year. If this limit is increased to a higher amount, it will help in reducing tax outflow for those who maintain high balances in savings accounts.

Launching tax-friendly equity schemes: The Rajiv Gandhi Equity Savings Scheme which was introduced last year provides tax benefits to first time investors in the equity markets.

However, this investment is restricted to investors with an annual income of less than Rs 10 lakh. Increasing this limit beyond Rs 10 lakh and introducing more such schemes will help in benefiting small tax payers.

The above are a few expectations from the Budget by the small tax payers. With the current high inflation in the economy combined with poor growth, there is a need for the Budget to include provisions, which can increase disposable income in the small taxpayers' hands.
Powered by

BankBazaar.com is an online marketplace where you can instantly get loan rate quotes, compare and apply online for your personal loan, home loan and credit card needs from India's leading banks and NBFCs.
Copyright 2008 www.BankBazaar.com. All rights reserved.