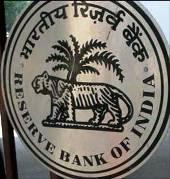 The Reserve Bank of India might revise its projected credit growth target of 16 per cent for the financial year.

Its data shows banks have over the first nine months of 2012-13 achieved just about seven per cent more.

Bank credit was Rs 50.4 lakh crore (Rs 50.4 trillion) as of January 11 and they have disbursed close to Rs 3.4 lakh crore (Rs 3.4 trillion) of new loans in the financial year till now.

To achieve the target of 16 per cent growth for 2012-13, banks need to disburse more loans in the next two and a half months than they have given in the past nine and a half months, an extra Rs 4.15 lakh crore (Rs 4.15 trillion) in the remaining months.

Credit offtake has been slower as interest rates stayed high and companies have been availing non-bank resources for working capital needs.

Bankers say no new project proposals of a meaningful size have come in recent times.

Infrastructure proposals have slowed due to supply issues such as environmental and land acquisition clearances and fuel linkages.

Initially, the central bank had projected a 17 per cent credit growth target for 2012-13.

In October's half-yearly review of monetary policy, this was
cut one per cent.
However, quite a few are still hopeful of achieving the target. "Usually, credit picks up in the last quarter and with the sentiments improving, we are hopeful," said K K Misra, executive director, Andhra Bank.
All banks might not be able to achieve the target but industry credit growth will be in line with RBI's projection, he said.
Historically, credit has picked up in the last quarter and this time, too, we expect the same, said a top official of a public sector bank.
Deposit growth continues to lag. It rose 13.3 per cent, year on year, to Rs 65.4 lakh crore (Rs 65.4 trillion) as of January 11.
RBI had projected 15 per cent deposit growth for the year.
This rise has been slow for two years, as inflation has stayed high and returns have been attractive for non-financial assets such as gold and real estate.
However, the country's largest lender is facing a problem of too much cash.
"We are sitting on excess liquidity of Rs 55,000 crore, though our deposit rates are one of the lowest in the industry," Pratip Chaudhuri, chairman of State Bank of India, had told reporters last Saturday.
He had said this was why SBI had reduced its lending rate for home and automobile loans, to push retail credit.