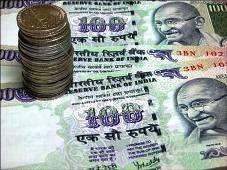 Indian Railways' financial distress is not likely to get over in the near future.

Its projected shortfall in internal resource generation for meeting its 12th Plan outlay (2012-17) is Rs 2,00,000 crore (Rs 2,000 billion).

The ministry of railways has projected a three-time increase in Plan size to Rs 7,19,677 crore (Rs 7,196.77 billion) for the five-year period.

Of this, 28 per cent is supposed to come from internal resource generation.

At the beginning of the 11th Plan, spending of Rs 2,33,289 crore (Rs 2,332.89 billion) was envisaged; instead, railways is expected to wrap up the current Plan with Rs 2,03,311 crore (Rs 2,033.11 billion).

Vision 2020, unveiled during former minister Mamata Banerjee's tenure in 2009, envisages railways make an investment of Rs 14 lakh crore (Rs 14 trillion) for capacity creation, network expansion, upgradation and modernisation of infrastructure.

Around half the 12th Plan funding need, amounting to Rs 3,54,024 crore (Rs 3,540.24 billion), is expected to come as gross budgetary support.

Another 28 per cent is to be from internal resources. extra budgetary resource-funding is required to the tune of 20 per cent, said an official.

This includes Indian Railway Finance Corporation borrowings, public-private partnerships and wagon investment schemes. A small two per cent is expected from the railway safety fund.

According to the ministry of railways' projections, "With receipts of Rs 7,36,278 crore (Rs 7,362.78 billion) and expenditure of Rs 6,99,238 crore (Rs 6,992.38 billion) during the period, the internal resource available during the XII Plan is only Rs 36,440 crore (Rs 364.4 billion), highly inadequate compared to the requirement of Rs 2,01,805 crore (Rs 2,018.05 billion), a gap of Rs 1,65,365 crore (Rs 1,653.65 billion)."

The receipts of Rs 7,36,278 crore (Rs 7,362.78 billion) in the Plan are based on assumptions of  passenger growth of seven per cent, derived yield from passenger-km at a compounded annual growth rate of 3.1 per cent and a passenger earnings CAGR of 11.3 per cent.

In the freight segment, the loading is expected to increase incrementally by 110 mt each year.

Earnings are expected to increase to Rs 1,10,989 crore (Rs 1,109.89 billion) in 2016-17, with a CAGR of 9.9 per cent over 2010-11.

The yield per net-tonne km (ntkm) is expected to increase by 10 per cent from the 109.56 paise of 2011-12 to 119.69 paise in 2016-17, with a CAGR of 2.4 per cent.

Mounting expenses

The expenses are likely to shoot up. The ordinary working expenses of staff costs, stores, contractual payments, fuel for traction and lease charges is expected to have a CAGR of 11
per cent. Staff costs are expected to increase by 10.6 per cent.
Hiring of another 100,000 employees by 2012-13 would result in an additional expenditure of Rs 2,400 crore (Rs 24 billion) per annum.
There is an annual increase of three per cent per annum in salaries and allowances.
As inflation is hovering around eight per cent a year, so the dearness allowance is increasing at 14 per cent yearly.
With DA crossing 100 per cent, another increase of 25 per cent increase would have to be provided for certain allowances.
With a seven per cent increase in consumption to cater to growth of freight and passengers and an annual hike of Rs three per litre in HSD oil, it will lead to a CAGR of 11 per cent in traction expenditure, said a senior railways official.
The requirement under the Capital Fund, Depreciation Reserve Fund and Development Fund is around Rs 45,525 crore (Rs 455.25 billion), Rs 1,20,271 crore (Rs 1,202.71 billion) and Rs 35,109 crore (Rs 351.09 billion), respectively, for the 12th Plan.
Internal resources are used to finance the capital fund, depreciation reserve fund and development fund.
These are required for renewals, replacements, upgrading and modernisation of assets and for repayment of the principal component of lease charges.
It is primarily required for rolling stock, track renewals, other electrical works, amenities for staff, passenger amenities and other specified works.
The quantum of GBS projected means an annual budgetary support of Rs 60,000 crore (Rs 600 billion), on an average. Considering the current year's GBS of only Rs 20,000 crore (Rs 200 billion), this seems a difficult proposition, unless government's priorities take a paradigm shift in favour of rail infrastructure, added another senior railways official.
Similarly, resources expected to be raised through EBR depend heavily on IRFC borrowing and PPP.
While debt servicing cost is already touching a very high level and the railways find it difficult to sustain these borrowings, a decision to increase market borrowings will require careful consideration.
The past record of railways in raising resources through PPP is not very encouraging and an optimistic scenario of plan investment through this route presupposes putting in place marketable policies that appeal to the private sector.
According to officials, some measures the railways can take to bridge this gap can be indexing fare and freight to fuel inflation, a dividend relief of one per cent, land and advertisement charges, fuel efficiency surcharge and market-oriented fares.
These can help bridge this gap to Rs 1,57,000 crore (Rs 1,570 billion).
Making PPP more client-friendly is another option.