Tyre industry in India, stands at around Rs 25000 crore in FY 10, and is one among the few countries which produces - tyres nearly satisfying its domestic demand. The Indian tyre industry is net exporter and is currently improving on the radialization particularly in the truck and bus tyre segment.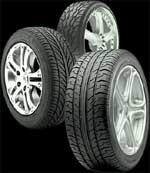 Although all the categories of tyres, from moped to off the road tyres and rugged all steel radial truck tyres to high performance passenger car tube less tyres, are manufactured in India; Truck and Bus tyres account a major portion (65%) of the industry turnover. On the other hand, Passenger car tyre has already attained nearly 100% radialization.

According to the statistics from ATMA (Automotive Tyre Manufacturers Association), tyre production in December 10 has increased by 18% to 10.55 million tyres as against 8.97 million in the corresponding previous year. The production of Truck and Bus tyres grew marginally by 2% to 1.30 million tyres while that of passenger car tyres grew by 28% to 2.43 million tyres, motor cycle tyres grew by 9% to 3.73 million tyres in December 10.

On the other hand, the tyre exports improved by 15% to 5.98 lakh tyres but the export of Truck and Bus tyres declined by 6% to 1.76 lakh in December 10.

Tyre Industry is one of the raw material intensive industries in India. Raw material cost accounts for nearly 62% of tyre turnover and 70% of the production cost. Natural Rubber is the key raw material for the tyres (accounting 42% of the raw material cost of the industry) followed by Carbon Black and Nylon Tyre Cord fabric and Rubber Chemicals.

According to the statistics from Rubber Board of India, tyre industry has consumed 62.8% of the domestic Natural Rubber output in seven months ended October 2010 against 61.4% in the corresponding previous year.

Prices of RSS 4 Kottayam grade Natural Rubber have zoomed up by 74% from Rs 13686 per quintal in February 2010 to Rs 23789 per quintal in February 2011 mainly on the back of marginal growth in the rubber output and increase in the demand.

The prices are still shooting north and are recording a new high for every month. Currently, the prices are hovering at all time high of Rs 24050 per quintal on 19 February 2011. The spike in the rubber cost from the past 12 months have alarmed to the tyre industry and has resulted in contraction of Operating margins on q-o-q basis in quarter ended December 10.

Interestingly, the consumption of Synthetic rubber is increasing on the back of spike in the Natural rubber prices. The consumption of synthetic rubber in tyre industry has increased by 34% to 1.70 lakh MT in April – October 2010 and constituted 71.9% of the total synthetic rubber consumption.

To uplift the tyre industry from the hardening raw material prices, ATMA has submitted a pre budget Memorandum to the Government of India for its consideration in the forth coming Budget 2010-11.

Duty Structure:
| | | |
| --- | --- | --- |
|   | Existing | Proposed |
| Tyres | 10.00% | 20.00% |
| Rubber | 20.00% | 7.50% |
| Rubber Chemicals | 7.50% | 2.50% |
| Nylon Tyre Cord | 10.00% | 5.00% |
| PBR | 10.00% | 5.00% |
| Steel Tyre cord | 10.00% | 5.00% |
| EPDM | 10.00% | Nil |
| Styrene Butadiene Rubber | 10.00% | Nil |
| Polyester Tyre Cord | 5.00% | Nil |
| Butyl Rubber | 5.00% | Nil |
| Polyester Tyre Cord | 5.00% | Nil |
Industry Expectations:

There was an anomaly in the tyre industry with customs duty on raw material – Rubber at 20% being higher than the customs duty on finished products - Tyres which is at 10%. On the back of spike in the rubber prices and increase in the tyre imports, Industry has suggests Government to reduce customs duty on the Natural rubber from existing 20% to 7.50%. However, as an alternative it has suggested to increase customs duty on tyres from existing 10% to 20%.

Slash customs duty on some raw materials which were not produced domestically like; Butyl Rubber, Ethylene Propylene Non Conjugated Diene Rubber (EPDM) and Styrene Butadiene Rubber.

The Industry imports much of the proportion of other key raw materials like PBR, Steel Tyre cord, Nylon Tyre cord, Polyester Tyre cord and Rubber chemicals. As much of the industry's demand for the above raw materials was not met locally, ATMA seeks reduction of customs duty on Nylon Tyre Cord, Steel tyre cord fabric and PBR from existing 10% to 5% each, on Rubber chemicals from 7.5% to 2.5% and slash customs duty on Polyester tyre cord from 5% to Nil.

Appropriate clarification should be issued to the effect tubes and flaps are "inputs" being "accessories" for tyres, hence Rule 3(5) of the Cenvat Rules 2004 & Rule 16 of the Central Excise Rules 2002 are not applicable being revenue neutral. On the other hand, include 'Tyre Manufacturer' as a class of Exporters under Rule 20 of Central Excise Rules, to allow them procure tubes and flaps without payment of duty for exports.

Companies to watch

MRF, Apollo Tyres, JK Tyre & Industries and CEAT

Outlook

The Tyre industry has been reporting bleeding margins on sequential basis since past 3 quarter mainly on the back of sharp spike in the Natural rubber prices. On the other hand, share of Chinese imports in to domestic tyre industry is showing a consistent improving trend.

While hike in customs duty on tyres will buoy the sector, the near term benefit from cut in customs duty on rubber will be negligible.

On 23rd February 2011, the tyre grade RSS 4 rubber prices were Rs 23100 per quintal in Kottayam at Kerala, but the prices of equivalent RSS 3 prices at Bangkok, Thailand is much higher at Rs 29931 per quintal.

So, any reduction in the customs duty on natural rubber will not help the tyre sector in the current circumstances where the domestic prices are at a steep discount to global prices, but if this situation reverses, then the benefit will trickle down.
Click NEXT to read on . . .