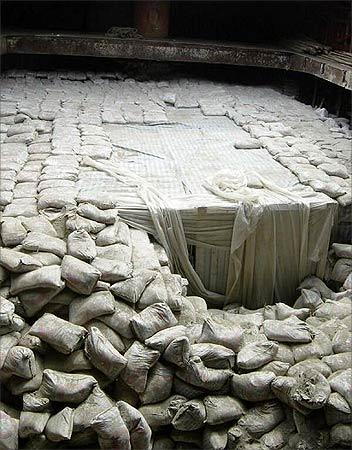 Cement prices are likely to go up by around Rs 8-10 per 50 kg bag with manufacturers saying that they may pass on the burden of hike in excise duty proposed in the Budget 2010-11 to customers.
"Minor roll back of excise duty was expected, but our industry was hoping for an abatement as it is an important sector for overall growth," Cement Manufacturers Association of India president Vinita Singhania told PTI.
Partial roll back of excise duty, coupled with price hike in petrol and diesel, will make cement costlier, she said.
"There will be a cost increase of about Rs 5 per bag only because of the excise duty hike. Price rise in diesel and petrol will affect our input cost as it is an energy-incentive sector," Singhania said, however, adding that the government's emphasis on infrastructure, housing and coal blocks would augur well for the cement industry.
Barak Valley Cement's managing director K Chamaria said prices in North-East are expected to rise by Rs 10 per bag as demand is very high in the region compared to supply.
As per the Budget proposal, excise duty on all non-petroleum sectors have been hiked to 10 per cent from 8 per cent. For the cement industry, for every 50 kg bag with a retail price of less than Rs 190, the excise duty will go up to Rs 290 per tonne from the existing Rs 230.
For bags costing over Rs 190, the excise duty is hiked to 10 per cent from 8 per cent on cement and cement clinker.
In his Budget speech Mukherjee said: "The specific rates of duty applicable to portland cement and cement clinker are also being adjusted upwards proportionately."
The domestic cement industry is facing the unprecedented problem of over-supply leading to squeeze in margins. While production is slated to increase to 270 million tonnes, demand is likely to be only 198 million tonnes by the end of the current fiscal.
Leading cement maker ACC managing director Sumit Banerjee said the increase in excise duty on cement as well as petrol and diesel will have some "inflationary impact".
Expressing similar views, J K Cement group executive president R G Bagla said cement could be costlier by at least Rs 8 per 50 kg bag depending on the markets.
"Price rise will lead to further inflation and people are going to suffer. Can't say about the demand scenario, but it will surely have some impact," he added.
Consultancy firm Ernst & Young (E&Y) said manufacturers might have to absorb some amount of duty hike as supply in the sector exceeds demand.
"The cement manufacturers' ability to pass the increase to the consumers shall depend on the demand-supply scenario.
Since the supply is expected to exceed demand in short to medium term, the cement companies might have to absorb some of the duty increase, thereby marginally reducing their profitability," E&Y cement industry leader Nitin Gupta said.