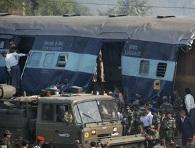 The Minister of Railways Mamata Banerjee on Wednesday announced her ministry will follow a twin strategy of adopting the highest level of technology and pressing into force well-trained manpower, as emphasised in Vision 2020 for safety and security.
Presenting the Railway Budget for 2010-11 in Parliament, the Minister said that safety and security never sleeps and zero tolerance for accidents is our vision and mission.
She said 17,000 trains run everyday carrying 18 million passengers over 64,015 kilometres. In such a vast operation, due to technical problems, sabotage, fog, rail strikes, natural disaster and human failure, there are some unfortunate incidents of accidents.
The Minister said Railways has to go in for new, cutting-edge equipment to prevent accidents. Anti-collision device (ACD) and Train Protection Warning System (TPWS) are two such devices. She said ACD has already been installed on Northern Frontier Railway and is now proposed to be extended to three more Zonal Railways.
The Minister said that four projects of TPWS covering 828 route kilometers for improving safety and preventing collision accidents will be implemented during the year. Railways are also developing better coaches and locomotives and will provide automatic fire and smoke detection system in 20 pairs of long-distance trains as pilot project.
The Minister said that accidents at unmanned level crossings are a source of deep concern to all. Even now, there are about 17,000 unmanned level crossings.
She said that manning of around 3,000 level crossings was approved in 2009-10 and a further 1,000 level crossings will be taken up next year. A special drive in this regard is being launched so that in the coming five years, all the unmanned LCs are manned, she added.
Mamata Banerjee said Railways would construct more under-passes, limited height sub-ways besides Rail Over Bridges (ROBs) and Rail Under Bridges (RUBs). She said Railways will explore the possibility of using jute geo-textiles wherever the soil formation of railway track is unstable and weak.
The Minister said that law and order being a state subject, security cannot be ensured without the whole-hearted cooperation of the state governments. She said, in fact, Railways bear 50 per cent of the cost of State Government Railway Police. (GRP). She appealed to the people not to target the Railways during any local issue and frequent rail rooks agitation.
The Minister said her Ministry has to strengthen the Railway Protection Force (RPF) as an organization and to modernize RPF, full support is being given. Railways will bring a comprehensive bill for providing security to passengers.
She said as security is an important area, Railways has decided to involve ex-servicemen to strengthen Railway Protection Force.
Referring to the security of women passengers, she said it will be improved by raising 12 companies of women RPF personnel to be named 'Mahila Vahini'.
The Railway Protection Special Force (RPSF) will also be strengthened and priority will be given to women especially those belonging to minorities, SC/ST, OBC and economically backward classes.
(PIB)