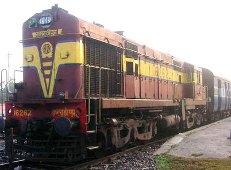 Government said on Monday it is committed to substantially expanding capacity of Indian Railways along with increasing speed of passenger and freight trains.
"My Government is committed to fulfilling a substantial expansion in capacity and modernisation of railway technology and to increasing the speed of both passenger and freight trains while improving safety," President Pratibha Patil.
Addressing a joint sitting of Parliament, she said commencement of train services in the Kashmir Valley from Qazigund to Baramulla demonstrates the government's commitment to development of all corners of our country.
She said a special North East Rail Development Fund has been created to provide assured financing for nine major national projects in the North Eastern region.
Besides, Railways have also commenced work on the ambitious Dedicated Freight Corridors on the Eastern and Western trunk routes.
"This project would help drive Indias growth".
What do you expect from the forthcoming Budget for 2010-11? Tell us!