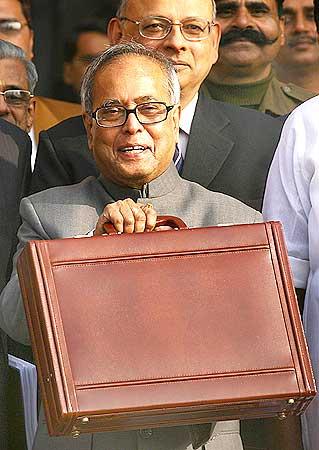 A day before unveiling the Budget, Finance Minister Pranab Mukherjee will table the Economic Survey in Parliament on Thursday which will take stock of the economy and also the impact of stimulus on industry.
Besides the Economic Survey, the finance minister will also present the report of the 13th Finance Commission on sharing of taxes between the centre and states for the five-year period beginning April 2010, along with an action taken report.
The Economic Survey Survey, which will provide the outlook for 2010-11, is expected to project around 7.5 per cent economic growth rate during the current fiscal, which will be marginally higher than 7.2 per cent estimated by the Central Statistical Organisation.
The previous Economic Survey, which was tabled in July by Mukherjee, had said the economy, despite the impact of the global financial crisis, could expand up to 7.75 per cent. It was reiterated by the minister when he presented the Mid-Year Review of the Economy in December.
Driven by stimulus package, the economy during the second quarter of the fiscal ending September grew by 7.9 per cent, much above the expectation of the analysts.
The survey is also expected to underline the need for fiscal consolidation as the deficit of the government is estimated to shoot up to 6.8 per cent of the Gross Domestic Product (GDP) during 2009-10 from 6.2 per cent a year ago.
As regards the Finance Commission report, it was submitted to President Pratibha Patil on December 30, 2009 by Chairman Vijay Kelkar. The report was later considered by the Union Cabinet.
In addition to highlight the impact of the stimulus on the economy, the Economic Survey is expected to raise concerns with regard to rising prices, flat agriculture sector growth and subdued exports.
The Economic Survey is also likely to suggest measures to push economy to the high growth trajectory of 9 per cent. Following the global financial meltdown, the growth rate slipped to 6.7 per cent during 2008-09 from over nine per cent in the preceding three years.
The three stimulus packages provided by the government to help the industry tide over the crisis included tax cuts and increased public spending.
Mukherjee is expected to take a call on stimulus rollback when he unveils the budget on Friday. While the experts are suggesting partial withdrawal of stimulus, the industry wants tax concessions to continue as the recovery is still fragile.
As far as Finance Commission report is concerned, Mukherjee had already said that recommendations would be reflected in the Budget.
The report assumes importance in the backdrop of the decision of the government to implement GST and Direct Taxes Code. As per the current indications, the new tax structures on direct and indirect taxes are likely to be implemented from April 2011.