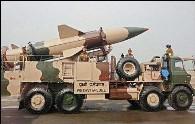 The defence ministry is expecting a 15 to 20 per cent increase in its budget allocation for the next fiscal due to rise in expenditure on its modernisation drive and commitments following pay review.
The Minister of State for Defence M M Pallam Raju said he expects an increase in the budgetary allocation this fiscal from 2009-10 figure of Rs 1,41,703 crore (Rs 1.41 trillion).
"Certainly, we are expecting an increase because of the increase in revenue expenditure, implementation of 6th Pay Commission Report. Apart from that, there is an emphasis on modernisation and new acquisitions," he said.
Keeping this in mind, Raju said, the Ministry expects an increase in the budget, which "might be 10-15 per cent or 15-20 per cent".
"I am hopeful of an increase of at least 15-20 per cent," he told reporters on the sidelines of Assocham International Conference on Indian Defence.
In the 2009-10 budget, the allocation for Defence Ministry saw a 34 per cent increase from Rs 1,05,600 crore (Rs 1.05 trillion) which is one of the highest in country's history. The planned expenditure had been pegged at Rs 86, 879 crore (Rs 868.79 billion) in this fiscal.
Asked whether there was any plan to increase the 26 per cent cap on FDI in defence sector, Raju said at the moment, the government was not thinking on this line though there is a request from the industry.
What do you expect from the forthcoming Budget for 2010-11? Tell us!