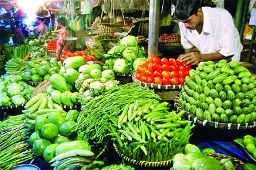 The much anticipated Budget announcements are over. The entire Opposition walked out from the Lok Sabha in protest terming the Budget as 'inflationary'.
The FM changed the slabs cutting the rate to 10 per cent for income up to Rs 500,000. The tax concession the FM said will give more money in the hands of the people.
But raising the duties on petro products will automatically hike the cost of petrol and diesel, which will not only hurt vehicle owners, but prices all around will also rise.
What effect will the Budget have on food prices? Will the Budget will lead to further escalation of prices?
In a chat on rediff.com on Tuesday, commodities and commodity futures expert Anand James replied to many such queries. Here is the transcript:
Anand James says, Very Good Morning to all of you. Anand James here.

---
gaurav asked, will the reduced deficit not lead to firming up of interest rates resulting in cheaper borrowing that is a lead up to inflation?
Anand James answers,  at 2010-03-02 11:56:58Firm interest regime is normally aimed at mopping up excess liquidity from the market. Earlier RBI had raised interest rates with a view to rein in inflation which is already northbound. Budget deficit figures that were announced in the Finance Minister's speech are projected figures estimated on the basis of government's proposed spending in the next few financial years. We may or may not achieve those figures. The Government's aim to reduce the deficit is taking international cues (Greece issues) that it doesnot augur well for the economy to keep high deficit figures on the books for a long time.
---
saif asked, what kind of effect will the budget have on gold commodity prices
Anand James answers, Gold futures in India had responded immediately post budget announcement by rising close to 0.5 percentage. Of course, high prices are a deterrant to conumser demand, but it has to be noted that we are still way below the recent record peak. Moreover, Bombay Bullion Association's provision figures show that Feb imports have risen steeply over last year's figures. So, the rise in customs duty may not slow down consumer demand altogether.
---
Ntin asked, hi Anand, Do you can tell us which products prices may go higer?
Anand James answers, Hi Nitin, On broad terms, commodity prices should remain firm in this financial year. I am positive on Nickel and Natural Rubber
---
Sudarshan asked, One question, sir. Whenever prices of foodgrains rise, there is a clamour among politicians who say that the price rise is due to commodity futures. What does this mean? How does the commodity futures trading thing affect prices?
Anand James answers, Hello Sir, I agree with you. Commodity Futures seem to be an easy target for everybody, whenever prices go up. One of the major advantages of commodity futures it has brought in transparancey and uniformity in prices quoted across the nation. You would agree with me that we still do not have a means of uniform pricing across India in spot market.
---
niwas asked, whether non roll back of stimulus have direct impact on inflation then in that case what are the measures proposed in budget to counter them
Anand James answers, Hello Niwas, Stimulus packages are likely to be withdrawn in a calibrated manner. With or without stimuls inflation should remain firm as long as consumer spending remains robust. A stimuls package can at best stimulate a latent demand, not create demand from nowwhere.
---
Amruta asked, What is your take on the Budget? Will it be inflationary?
Anand James answers, Hi Amruta, I am happy that the Budget announcements are not regressive. I am happy that the Government has taken a serious note on bringing down deficit. The fuel price hike also makes sense, as we cannot remain insulated from global prices for long. Consumers should be given a reasonable window to adjust their usage/spending patterns in accourdance with High Oil prices.
---
shanmuga asked, This budget broughts tax relief to less than 5% of working class and by increasing the fuel cost and taxes,,putting pressure on every body isn't it???
Anand James answers, Hello Mr. Shanmuga, Sooner or later, we might get exposed to high oil prices. Government's subsidies have been insulating us from real prices. However, over the last few years, the number of gas guzzling vehicles on the road has increased exponentially, while fewer initiatives have been there on alternate energy resources. Lesser have we though about adjusting our spending or consuming patterns. In the light of the entire euro zone plunging into debit crisis, it is inevitable we take a direct approach with rising deficit.
---
Ashu asked, I guess Fuel price hikes will help in low usage of fuel, which will eventually help in utilizing natural resources in the long run, what you say?
Anand James answers, Hi Ashu, In the long run yeah. But then, it requires more than high fuel prices to prompt us away from the present dependence on Crude Oil. It would require a lot of innovation, Government initiatives, etc. to replace an energy value chain that has been in place for many decades.
---
Somya asked, how do you go about trading futures and commodities?
Anand James answers, Hi Somya, Could you be a bit more elaborate?
---
NArendar asked, is some one there to answer our questions
Anand James answers, Hello Mr. Narendar, you were asking something?
---
sreedhar asked, Hey Anand, Why our Indian market fuel price is not linked with the Global fuel market, every year budget uses this fuel as an instrument and increases the price?
Anand James answers, Hey Sreedhar, I believe, one of the main reasons we have been largely unaffected by the recent financial turmoil that has shook global economies, is we have been opening up our economy one step at a time. eg: our FDI, capital account convertibility. Being exposed to the global patterns does have its own negative impacts.
---
subrata asked, will this budget cause further inflation, if yes then how the poor people will survive. I think that is also definite resposibility of the govt.
Anand James answers, Hello Subrata. Regarding inflation.. it remains to be seen, how our spending evolves in the next couple of months. Lot depends on a good monsoon for a start. And secondly, some would differ on this; but I have always believed that Government is more of a facilitator. I believe opportunity is there for everybody for the taking.
---
dgdfgd asked, We ur suggestion for long term investor, should stick for long term investment beause probably next budget long term capital gain may be taxable.
Anand James answers, One would have to be certain as to how long would be the period of a "long term investment". Spending patterns, investment cycles, business cycles change more swiftly these days. I prefer to move my money in and out more often.
---
ArunK asked, Hwz Budget will affect middle class people in terms of commodities,two-wheeler purchase and day today expenses.
Anand James answers, Yeah, with rising Natural Rubber prices and Crude oil prices, and also with rise in excise duties, prices of two wheelers are anyway not going to fall. But I would rather look at the opportunities that should unfold looking ahead. Would you be worried of high prices if you got more money to spend?
---
arindam asked, hi james! what is expected impact of the budget on commodities like edible oil, sugar, pulses etc.?
Anand James answers, Hi Arindam, Sugar futures continue to be remain suspended. Good stock situation should keep edible oil and pulses' prices largely remain steady, but yeah, higher fuel prices could add on to the cost systematically.
---
GaneshNadar asked, How much does hoarding effect prices
Anand James answers, Very much. Hoarding could inflate prices. Luckily, most of the commodities have a shelf life (that is we cannot go on storing it for ever and ever). Also luckily, we (traders, consumers) are more informed; so we know to some extent, if a price rise is genuine or not. Most often such hoarded commodity finds its way into the market sooner or later.
---
Anand James says, 
I think I have answered most of your questions. Thank you very much for joining in. Good day to you all. Best Regards, Anand James
---