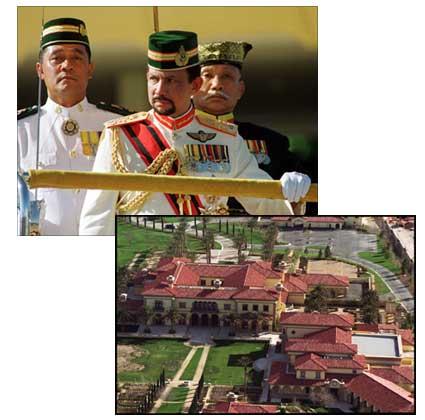 Familiar with the name, Sultan Hassanal Bolkiah Mu'izzaddin Waddaulah? No? How about the Sultan of Brunei?
For the longest time, he was the richest man in the world. Even now, Forbes magazine lists him as the most moneyed monarch in the world; he has a personal fortune that's in the range of around 20 billion dollars or 10 billion pounds. If you wanted to put that in the Indian matrix... um, let's see... that would be a shade over Rs 81 billion.
Well, if that figure boggles you, how about this?
His home, the golden-domed Istana Nurul Iman palace, is the largest residential palace in the world; in fact, it's the world's largest residence of any type.
According to Wikipedia, it has, among other attractions, 1,788 rooms, 257 bathrooms, 5 swimming pools, an air-conditioned stable for the Sultan's 200 polo ponies, a 110 car garage, a banquet hall that can hold upto 4,000 guests, a mosque that can accommodate 1,500 people...
The 29th Sultan is also supposed to have anywhere between 3,000 and 5,000 personal luxury cars, that have been uniquely modified for him. Included in this, says the Guinness Book of World Records, are 500 Rolls Royces, including the Phantom VI.
He has a personal Boeing 747 400 – that has been personalised for him with gold-plated furnishings -- six smaller planes, two helicopters and a $ 3 billion theme park.
And now, there is more evidence of the Sultan's extravagantly lavish lifestyle -- evidence that he would not be pleased to see in the public domain. What's worse, this information has come out into the open because of his bitter 10-year-old legal feud with his younger brother, the legendary 'playboy prince' and former finance minister of Brunei, Prince Jefri.
As a result of the case, the Sultan was forced to submit the details of his personal finances to the Privy Council -- Brunei's highest court even though the country gained independence from Britain in 1984 -- and it resulted in a 50-page report.
As reported by The Independent, 'Among his payments to friends and employees, the 61-year-old Sultan spent £7.3m and £6.59m on two house supervisors, and £5.86m on each one of his five public relations officials, named Janet, Prall, Shelly, Vicky, and Yoya. He also spent £1.26m on a badminton coach and £1.25m on masseuses and acupuncturists, as well as £48,859 on the guards for his exotic bird cages.'
The newspaper adds, 'In total, the Sultan transferred £3.9bn of state funds into his personal bank account over four years. That sum is higher than the entire gross domestic product of the tiny oil-rich state.'
The luxury-loving monarch, who took to the throne 40 years ago, is not too fond of dissent; he has rewritten Brunei's constitution to include the phrase: His majesty can do no wrong in either his personal or any official capacity.
At the same time, the country's oil wealth has been shared with its citizens. They enjoy free education and medical services and don't have to pay income or corporate tax.
Image (on top): Bruneian Sultan Hassanal Bolkiah (centre) inspects a guard of honour from an open vehicle in Bandar Seri Begawan, Brunei Darussalam. Photograph:  Roslan Rahman/ AFP/Getty Images
Image (bottom): The Sultan of Brunei's property in Las Vegas. Photograph: Dan Online USA Inc