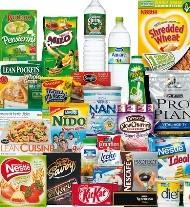 Brokerage houses have begun downgrading Gurgaon-headquartered Nestle India, following a 1.1 percentage point increase in the rate of royalty by the company.

Nestle announced on Friday the increase would be staggered over the next five years, taking its rate of royalty to 4.5 per cent.

Brokerage houses reacted to the piece of news by reducing the target price assigned to the company.

Religare reduced the price from Rs 5,000 to Rs 4,000, while Goldman Sachs to Rs 3,952 from Rs 4,041.

ICICI Direct not only downgraded the stock from 'buy' to 'hold', but also brought down the price from Rs 5,074 to Rs 4,993.

Karvy and Citi continued to be negative, with a sell tag.

"With moderate growth in the near term and rising competition, valuations are coming off," Citi analysts Jamshed Dadabhoy and Aditya Mathur said in their report on Nestle released on Monday.

Nestle closed trade on the Bombay Stock Exchange at Rs 4,610 on Monday, down 1.6 per cent.

The company is the second in the consumer goods space to see a spate of downgrades after a hike in the rate of royalty.

Hindustan Unilever saw similar downgrades soon after it announced this January it would hike royalty from 1.4 per cent to 3.15
per cent in a staggered manner over the next five years.
Besides HUL and Nestle, companies such as Maruti Suzuki, ACC, Ambuja Cements and McDonald's Corporation have all taken up their royalty rates amid protests from minority and institutional shareholders.
In a recent interaction with
Business Standard
, Shriram Subramanian, the founder and MD of Ingovern Proxy Advisory firm, said, "Royalty payments are increasingly becoming a corporate governance concern for Indian companies.
"Increases in royalty payments aren't justified by the companies as they reduce the distributable profits of the company and result in unequal distribution of wealth between the majority stakeholder and minority investors."
Nestle, meanwhile, said that its parent had requested for a review of royalty payouts two years ago, which was approved only now following a detailed study by two Indian firms -- M/S Bansi S Mehta & Co and KPMG.
Nestle India has a general license agreement that allows it access to the parent's intellectual property rights including its portfolio of brands such as Maggi and Nescafe as well as proprietary science and technology.
The company said that the 4.5 per cent rate of royalty was comparable to what subsidiaries in similar countries (read emerging markets) paid to the parent.