Finland has become the first country in the world to make access to broadband services a legal right for its 53 lakh citizens.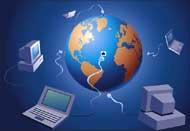 Under the new law, which came into effect on Thursday, telecommunications companies will be obliged to provide all citizens with broadband lines that can run at a minimum of 1Mbps (megabit per second).
The government has also promised to connect everyone to a 100Mbps connection by 2015, the BBC reported.
Suvi Linden, the country's communications minister, said Internet was part of everyday life for Finnish people and it was the government's priority to provide high speed Internet access to all.
"Internet services are no longer just for entertainment," she told the BBC. "Finland has worked hard to develop an information society and a couple of years ago we realised not everyone had access."
It is believed up to 96 per cent of the Finnish population are already online and that only about 4,000 homes still need connecting to comply with the law.
However, the plan means it will be difficult for the authorities to cut off people suspected of illegal file-sharing.