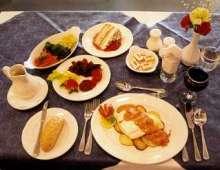 Britons throw away 11.9 million tonnes of food-related waste annually which releases over 25 million tonnes of carbon dioxide in the atmosphere.
According to a report by the Waste and Recycling Action Programme, an average British household throws away almost half a tonne of food-related waste a year, which is costing the country 12 billion pound a year in disposal.
It also found that almost half the total, 11.9 million tonnes, was 'avoidable waste' and that Britain could cut the amount of food-related household waste by 5.3 tonnes.
The Wrap said, The figures will increase the pressure on the government to step up its plans to tackle the amount of waste the country produces.
The analysis of food and packaging waste throughout the supply chain found that households were responsible for two-thirds of the total 18.4 tonne waste, The Telegraph reported.
In environmental terms, all the rotting food and waste that is wasted contributes the equivalent of 20 million tonnes of carbon dioxide a year to the atmosphere.
The associated packaging adds another six million tonnes of CO2 a year, the report's authors estimated. Previous reports by Wrap have found that more than a third of all the food bought by households ends up in the bin, much of it still edible.
The average household throws away 420 pound worth of food a year, with families discarding food worth 610 pound, it said.