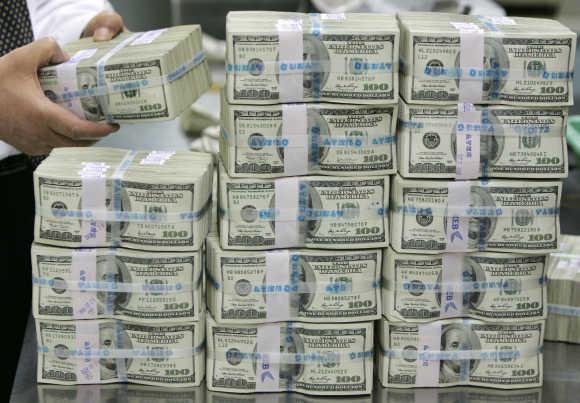 BRICS countries may reach consensus at next month's G20 summit on creating a $100 billion currency reserve fund to help ease short-term liquidity pressure and safeguard financial stability of major emerging economies, a senior Chinese central bank official said on Wednesday.
Yi Gang, deputy governor of the People's Bank of China, said leaders of the BRICS group, Brazil, Russia, India, China and South Africa, have agreed on the ratio of contributions, operation mechanisms, governance structure and loan-to-value ratio of a Contingent Reserve Arrangement (CRA).
There will be more consensus on the arrangement by BRICS leaders when they meet on the sidelines of the G20 summit to be held in St Petersburg, Russia, on September 5 and 6, Yi said. "We will see the launch of the fund in the foreseeable future," Yi was quoted as saying by the state-run Global Times.
"The fund offers a means to prepare for any negative effect from the volatility in the global financial market and is a supplement to the existing international financial systems such as the IMF and the World Bank," Zhao Xijun, a deputy director of the Finance and Securities Research Institute at the Renmin University of China, said.
"The efficiency and capabilities of these organizations are restrained by their complicated decision-making mechanisms," he told the Global Times. "The new fund will help ensure the financial stability of the major emerging economies and their stability will benefit the global economy and financial markets," Zhao said.
Yi also told a media briefing that China will contribute the "biggest share" to the fund, but not exceeding 50 per cent of the total contributions. He did not give out any more details.
In March, BRICS leaders signed an agreement to launch the fund with an initial size of $100 billion at the BRICS summit in South Africa.
"China is in a better position to play a big role in the new fund because China has the biggest economy among the BRICS nations and has the biggest share and most diverse structure in international trade," Song Guoliang, a finance professor at the Beijing-based University of International Business and Economics (UIBE), said.