At a time when rating agencies like Standard & Poor's reiterating negative outlook for India and government-owned companies, Bharat Petroleum Corporation Limited (BPCL) has made a debut in overseas bond market with 15 times oversubscription at a competitive coupon rate of 4.625 per cent.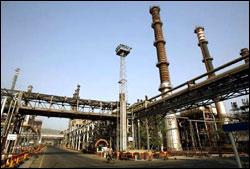 The $500 million bond issue that did not have a green shoe option will fund capital expenditures for BPCL's ongoing and future domestic projects. The 10-year bonds were listed at the Singapore Stock Exchange yesterday. With this the company has entered the league of Reliance Industries Ltd, Indian Oil Corporation and NTPC Ltd who are also listed on the Singapore bourse.
The transaction priced at a spread of 2.90 per cent per annum over the 10-year US Treasury note, the tight end of revised price guidance, said a company press release. The Notes will bear a fixed interest coupon of 4.625 per cent per annum, with interest payable semi-annually in arrears.
"The issue was oversubscribed by almost 15 times which is the highest oversubscription for any USD bond out of the country. The order book totaled to $7.5 billion from 325 high-quality fixed-income investors.
Besides, the benchmark issuance priced at the lowest spread vs. US Treasury amongst all 10-year bond issuances out of India in 2012," said the release. The heavily oversubscribed order book enabled the price guidance to be revised by 30 bps. This is the highest spread contraction achieved by an Indian issuer in 2012.
R K Singh, chairman and managing director, BPCL, said. "The successful pricing of BPCL's debut transaction is a remarkable testament of India's strong macroeconomic fundamentals and BPCL's credit strengths."
In terms of geographic distribution, the Notes were distributed 73 per cent to Asia and 27 per cent to Europe. By investor type, the Notes were distributed 62 per cent to fund managers, 14 per cent to private banks, 10 per cent to banks, and 12 per cent to insurance companies and corporates.
The county's second largest Oil Marketing Company and third largest Indian company by turnover, with majority government ownership, conducted roadshows for three days started Monday.
IndianOil has gone for bond issue thrice since 2010 with the latest one earlier this year being denominated in Singapore dollar. Its US dollar issue last year had a coupon rate of around 5.625 per cent.
Government-controlled OMCs have been one of the major concerns for rating agencies due to the mounting subsidy burden but post Rs 5 hike in diesel price and capping of subsidised domestic LPG, market perception has improved.
A treasury manager in one of the companies that raised money through bond issue recently, however, said the investors it seems are not thinking going by the ratings.
"They have faith in India as an emerging market where the oil and gas sector will grow," he said.