Bharat Petroleum Corp (BPCL) has offered a kerosene cargo, turning seller for the first time, to export surplus capacity as domestic demand wanes, industry sources said on Tuesday.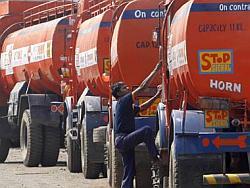 The state-owned refiner has offered 15,000 tonnes of kerosene for loading from Kochi over March 27 to March 29 in a tender that closes on March 14, they said.

India's usage of kerosene - used domestically as cooking - has falen as it is gradually replaced by liquefied petroleum gas (LPG).

The Petroleum Planning and Analysis Cell (PPAC), a unit of the oil ministry, lowered India's kerosene demand growth by 9.5 percent to 7.45 million tonnes in January for the current fiscal year ending March 2013.

It increased growth for LPG by 5.6 percent to 16.22
million tonnes.
"Normally the kerosene produced in state-owned refiners are used for domestic consumption, but this has been slowly reducing as people switch to cleaner LPG," the India-based source said.
Kerosene exports could become regular, the source added.
This was also likely the first kerosene export by an Indian state-owned refiner, a second source said, though this could not immediately be confirmed.