Shares of Indian software majors have plunged into red on news that BP would cut its spend on information technology.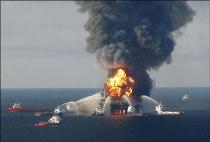 While Tata Consultancy Services was down almost 2 per cent, Infosys and Wipro had shed 1 per cent and and 1.5 per cent, respectively, on the Bombay Stock Exchange in afternoon trades on Thursday.
However, the oil giant denied the news. "The story saying we have cut our budget is not true.
In an analysts' presentation, BP said that $10 billion worth savings would be made, which are likely to come from on-core upstream assets... therefore there's not likely to be any impact on IT services from the savings, which have been announced, which need to be made for the $20-billion fund to cover the Gulf of Mexico costs," a spokesperson at BP said in an emailed response.
BP is among the top five clients for all IT majors. It had undergone a vendor consolidation exercise in August 2009. As part of this exercise, it reduced its vendor partners to five from 40, who had 82 contracts. TCS, Infosys, Wipro, IBM and Accenture were the five companies, which bagged a five-year $1.5 billion outsourcing deal from BP.
A report by CLSA Asia-Pacific Markets had then said: "BP will likely to generate 30-35 per cent cost savings after this consolidation exercise over a five-year period. Most vendors have given a 7.5-15 per cent cut on the rate card and have guaranteed an additional 10-15 per cent costs savings through offshore leverage, and change in manpower profile within the project team, among others."
Analysts, too, believe that BP will not implement any drastic cut in its IT spends, since the offshoring benefits are larger.
"The company might be looking for budget cuts in almost all departments. But it is highly unlikely that BP will cut its IT budget from $2 billion to $300 million (as some TV reports suggested). Because there will be discretionary spend as well. In case of price renegotiation on new contracts, BP could ask for price revision of 15 per cent, but on recently negotiated contracts they can only manage about five per cent or so," said Avinash Vashistha, chairman and chief executive officer, Tholons.
"I don't think the company will go for such drastic cuts. Besides BP recently renewed its contract with vendors, which again was a normal process. So far, we have not heard anything on price revisions either," said another analyst familiar with the development.
"It is not an easy task for a company to go back on its contract. BP would have entered into contracts with vendors for at least five years or more. Considering BP is in a problem, it might approach vendors and ask for some concession. It could be price-cuts or extending the payment period," concurred Sridhar Vedala, managing director of Quantum Step.