Auto component maker Bosch said it will invest Rs 2,200 crore (Rs 22 billion) in India in the next two years to enhance its production capacity and develop new technologies for the domestic market.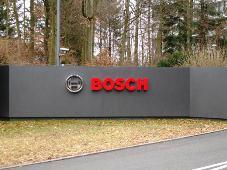 The company, which achieved sales of Rs 11,000 crore (Rs 110 billion) in 2011, said the investment is in line with its strategy to increase focus on localising its products and maintain a growth of 20-21 per cent in the coming years in India.

Besides, Bosch announced that the company will invest Rs 140 crore (Rs 1.4 billion) to support research activities at universities in India in the next 10 years.

"Between 2012 and 2013, the Bosch Group plans to invest some 22 billion rupees (Rs 2,200 crore) in India. Most of these funds will go into further expanding our local activities," Bosch Automotive Group Chairman Bernd Bohr told reporters.

He said a major portion of the investment will go on increasing the production capacities of its existing facilities located in Nashik, Jaipur and Ahmedabad.

"As Asia's emerging economies develop, demand for small, low cost vehicles will continue to grow. In response to this trend, we continue to focus our efforts on developing affordable technologies that meet local needs," he
said.
Of the total investment, Rs 700 crore (Rs 7 billion) will be used in enhancing Nashik plant capacity while the rest will be spent on executing the expansion plans of other facilities.
At present, Bosch has 13 manufacturing sites and 4 development centres across the country. Besides, the company is currently building new plants in Chennai and Ahmedabad, which are likely to be operation this year.
"The Nashik plant can produce around 7-8 million fuel injection products. A large chunk of the investment – around Rs 700 crore (Rs 7 billion) will go expanding the capacity of the plant," Bosch India Managing Director V K Vishwanathan said, adding that firm is also ramping up production of hangars at its Jaipur plant.
He, however, did not disclose how much the plant is likely to produce after the expansion.
Besides, the company said it has dedicated Rs 320 crore (Rs 3.2 billion) to support research activities in India, China, Germany and United States. "Almost half of the total investment (around Rs 140 crore) will support educational and research initiatives in India," Bohr said.
In line with its growth strategy and expansion plans in the country, the company is also increasing the headcount to 32,000 associates by the end of 2013. At present, it has 25,000 associates working for Bosch companies in India.