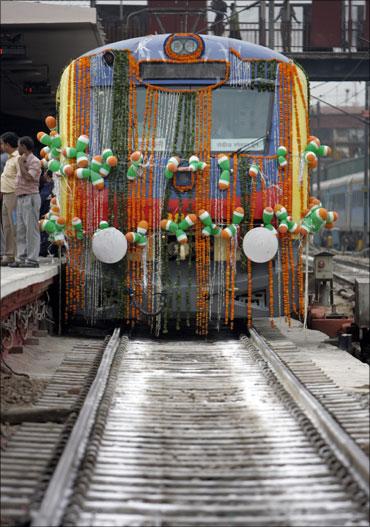 The Bharatiya Janata Party's (BJP) 'vision document' for the coming Lok Sabha polls is to say a BJP-led government at the Centre will offer airports at sea, private investment in railways and an end to non-access to electricity.
The document, meant to show the party's long-term thinking, is to be issued by mid-February; it will precede the party's manifesto for the elections, to be issued by mid-March. The party is also expected to follow the example of the Aam Aadmi Party in Delhi and issue constituency-wise manifestos, too.
Nitin Gadkari, former national head of the party, is chairing the team preparing the vision document. Murli Manohar Joshi, also a former national head, is chairing the committee on the manifesto.
Party sources said both documents, in the final stages of preparation, will borrow extensively from Gujarat Chief Minister Narendra Modi's initiatives in Gujarat.
Sources in the BJP involved in the preparation of the vision document said it argues for the need to put a pause on legislation based on entitlement, such as the right to food security. However, the party was unlikely to cancel any welfare scheme introduced by the present Congress-led United Progressive Alliance government.
Even so, it is reportedly going to advocate a 'right to light', mandating the government to end all unlit areas. Multi-mode access is suggested, through conventional electricity, solar lighting and biogas, among others.
Though lagging in specific schemes the party might undertake, the vision document will try to woo all. For the northeast, it will promise a separate time zone. As a way of changing the attitude of men towards women, it plans a provision through which male members will be mandatorily made part of women and child development committee in municipalities. A chamber of commerce for Dalits should be promoted and a department created for promotion of Dalit literature.
It is also likely to suggest involvement of parents and children in the design of educational syllabi.