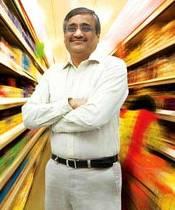 Future Group Chairman Kishore Biyani has priced the Rs. 750-crore (Rs. 7.5 billion) initial public offer of his group company, Future Ventures India, at near par levels of Rs. 10-11.
This is the first time, in recent years, that a major business group is offering shares at near par levels.
The
Business Standard
Research Bureau database shows that only 10 companies have sold IPOs at an offer price of less than Rs. 20 in the past four years.
The last issue to come at near par levels was Electrosteel Steels Ltd, which raised Rs. 280 crore (Rs. 2.8 billion) in October 2010.
Biyani said he wanted to make amends for the steep pricing of the Future Capital IPO, which resulted in heavy losses for investors.
In 2008, Future Capital raised Rs. 450 crore (Rs. 4.5 billion) through initial share sales selling at Rs. 765 per share.
Three years later, the shares are trading at less than a fourth of their value.
Biyani said he was aware of the losses suffered by small investors in its previous IPO.
"We are conscious of what happened. The issue price (of Future Ventures) reflects that," Biyani told
Business Standard
.
Merchant bankers said Biyani was adamant that the price of the Future Ventures IPO has to be kept at Rs. 10, eventually leading the company to sell more stake to the public (45 per cent).
"We realised that we had to part with lot of stake (if priced at Rs. 10 per share). But KB (Kishore Biyani) was absolutely clear he wanted investors to make money this time. He did not agree to raising the offer price," said Pankaj Jaju, executive director, investment banking, Enam Securities Ltd.
Atul Mehra, CO-CEO, JM Financial
Consultants Pvt Ltd, said the issue had to be a book building issue with a price band because Sebi rules required big IPOs to be so.
"Otherwise, we were ready to do a fixed price issue at par," he said.
Future was one of the few smart groups which raised money at the peak of the bull run in 2007-2008.
The Sensex had touched its all time high of 21,078, a day before Future Capital IPO hit the market. The shares were sold at a huge premium of 76 times the face value.
The issue was allotted at the upper end of the price band of Rs. 700-765 and raised Rs. 490 crore (Rs. 4.9 billion). This valued the company at Rs. 4,900 crore (Rs. 49 billion).
Though Biyani got peak valuations, he has had to face investor criticism for the subsequent destruction of shareholder value.
Some investors even took it up with the management in the annual general meeting in 2009. The stock had plunged to an all-time low of Rs. 93 by March 2009.
Three years later, the company still has a market capitalisation of Rs. 1,100 crore (Rs.11 billion), with the shares ending the Tuesday's trade at Rs. 170.
Biyani played down the timing. "It is difficult to time an IPO. It depends on when you are filing with Sebi and when you get the approval," he said.
He added that this time the market may not be so volatile.
The issue, third and largest from the Future stable after Pantaloon Retail and Future Capital, will open on April 25 and close on April 27 for qualified institutional bidders and on April 28 for retail and non-institutional bidders.
The company invests in businesses which are strategically important to the group's retail business.
It plans to use a large part of the funds for acquiring new businesses while a small part will be used to grow the existing businesses.