The Kishore Biyani-controlled Future Group, the country's largest retail chain, has marked Ezone as its first target for a partnership with a foreign player.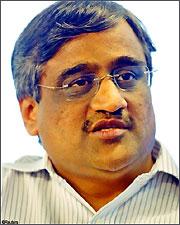 This might be the group's first tie-up with a foreign company after a committee of secretaries recently approved a proposal to increase the limit of foreign direct investment (FDI) in multi-brand retail to 51 per cent.

Talks were at an initial stage and the company was yet to decide on what percentage it would offload, said a Future Group spokesperson.

"Ezone will be the first among Future Group's formats to receive an influx of money. While talks are on a preliminary stage and nothing has been worked out yet, the first tie-up would definitely happen in this vertical," he added.

Ezone, which has more than 45 stores across India, is the consumer durable and infotech chain of the Rs 12,000-crore Future Group. It was separated from the flagship Pantaloons and made into a separate company earlier this year.

Besides Ezone, Future Group operates other retail formats like Pantaloons, Big Bazaar and Brand Factory.

"There has been a problem of shrinking margins. Mr Biyani has earlier said that Future Group is FDI-ready. Ezone has been separated and business verticals reorganised in anticipation of the funds the new norms will allow," the spokesperson said.

In allowing FDI into multi-brand retail, the committee of secretaries has allowed the entry of multinational retailers like Walmart, Carrefour and Tesco into the country. Most of these companies have been waiting for a while to enter the organised retail market in India, currently valued at nearly $22 billion.

Sanjiv Goenka-owned Spencer's Retail has also said it is scouting for foreign retail partners.

Also, keeping FDI in mind, the Ezone format itself will undergo a change.

"We are looking at an increasingly digitalised Ezone. This would mean a format with lesser number of stock keeping units, which allows us better inventory management in a more cost-efficient manner," the spokesperson said.