Microsoft co-founder Bill Gates visited Biological E Ltd, a city-based vaccine manufacturer, late in the evening on Thursday.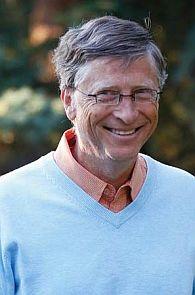 Gates who is also Co-Chair of the Bill and Melinda Gates Foundation, along with a delegation from the foundation met with the top management of Biological E Ltd.

Bill Gates congratulated Biological E on the science and innovation platform of the company that allows it to supply effective and affordable vaccines, a release said.

"Our company is committed to manufacturing quality vaccines at prices that make them one of the most cost-effective
investments in global health. We are very proud to support immunisation needs of the world's poorest countries and supply life-saving vaccines to underprivileged children in the world," Biological E's Managing Director Mahima Datla said.
Gates also visited the International Crops Research Institute for Semi-Arid Tropics (ICRISAT) at Patancheru and interacted with senior scientists for about five hours. His visit to ICRISAT was kept under wraps for security reasons.