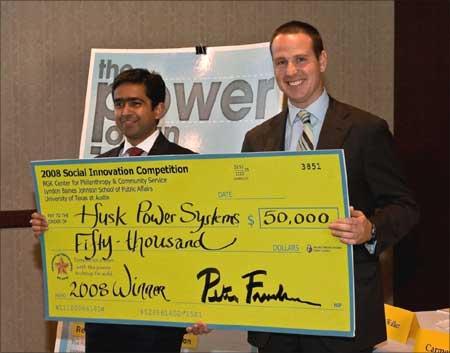 Beating more than 1,000 competitors from world over, Bihar-based Husk Power System, which coverts rice husks into energy and supplies electricity to villagers, has bagged the inaugural Global Business Plan Competition award.
The award was sponsored by leading American venture capital firms Draper Fisher Jurvetson and Cisco.
India's Husk Power System would receive $250,000 (nearly Rs 1.20 crore) as investment from Draper Fisher Jurvetson and Cisco to help take the technology to the next level; thus giving it an opportunity to expand to other parts of the state.
"Deciding on just one winner was difficult, especially with this caliber of candidates. We are excited to have chosen Husk Power Systems, which is especially remarkable for its alternative power technology, and we can't wait to see how this team becomes the next game changer," Draper Fisher Jurvetson managing director Tim Draper said.
"Given Cisco's focus on emerging countries and the use of innovative technology to provide enhanced essential services, Cisco's investment in Husk Power Systems is a great way for us to accelerate these themes," said Hilton Romanski, vice-president of corporate development for Cisco.
The company, which the two venture capitals believe has the potential to change the face of rural areas, especially in the rice belt of Northern India, by converting rice husk into energy, was founded in 2007 by two University of Virginia, Darden School of Business 2009 graduates Chip Ransler and Manoj Sinha.
At present, it operates 35 kW to 100 kW mini power plants in five villages of Bihar. It generates electricity by converting rice husks into methane gas for energy. Ash generated from the plants can be used as fertiliser or as an ingredient for cement.
"We're honoured to receive this recognition and opportunity, especially considering the level of competition," said Chip Ransler, chief strategy officer, Husk Power Systems.
"We look forward to working with the investment professionals at Cisco and the DFJ Global Network to make Husk Power Systems a pioneer in providing electricity to rural villages in India," he said.
Husk Power Systems previously won first place in the University of Virginia business plan competition in 2008 and the social innovation competition at the University of Texas at Austin.
Image: Husk Power Systems team members Manoj Sinha (L) and Chip Ransler (R) with the Social Competition Award 2008.
Text: PTI