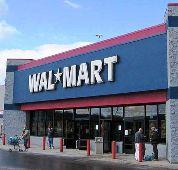 Bharti Walmart Pvt Ltd, a joint venture between Bharti Enterprises and Walmart Stores Inc, on Friday opened a wholesale cash-and-carry store at Raipur, in Chhattisgarh, taking the total number of outlets it operates in India to seven.

"We have invested $7 million in Chhattisgarh and created over 200 jobs, of which about 40 are from the tribal community. . . We have already received a very good response to this store with over 25,000 registered members," Bharti Walmart managing director and chief executive
officer Raj Jain said.
The new 'Best Price Modern Wholesale' in Raipur is spread over 53,000 square feet and stocks over 5,500 items, including foods, fruits and vegetables, groceries, personal and home care items, hotel and restaurant supplies, apparel and other general merchandise items.
"The JV is expected to open 12 new wholesale cash-and-carry facilities and employ approximately 4,000 people by December, 2011," the statement said.
The company launched its first store in Amritsar in May, 2009.
The other stores are located in Zirakpur, Jalandhar, Kota, Bhopal and Ludhiana.