Telecom major Bharti Airtel chief Sunil Mittal has thanked partner SingTel for standing by it in the $10.7-billion takeover of Kuwaiti telecom giant Zain's African business.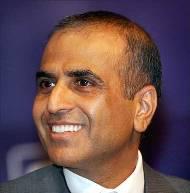 "The extremely tight time lines and the enormity of the task posed a real challenge. Bharti was able to achieve this important milestone through much hard work and support from SingTel and the external advisors," Bharti Airtel Chairman and Managing Director Sunil Mittal said after signing the deal in Amsterdam.
Mittal also thanked "all the team members" involved in the landmark deal which makes Bharti the world's fifth largest mobile operator in terms of subscriber base and second largest in terms of population covered by its services.
SingTel holds 31 per cent stake as a co-promoter in India-listed Bharti Airtel and therefore its support is critical to any major M&A deal by the company.
After announcing the deal, Mittal said SingTel has been very supportive of the deal from the beginning " whenever we require resources for our African operations, SingTel has exptertise in international operations, will never hesitate. Representatives of the Singapore based telecom giant have been present in almost all the board meetings discussing the transaction.