A consortium of lenders led by State Bank of India (SBI) will soon take a call on providing the working capital to cash-strapped Kingfisher Airlines.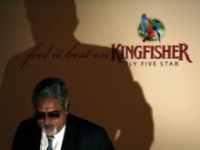 According to sources, the airline has requested the consortium for a working capital support of Rs 200-300 crore (Rs 2-3 billion) and individual banks are expected to take a call on this in the next few days.

Kingfisher Airlines in a statement on Saturday had said, "We have had a good meeting with our consortium of banks who have accepted, in principle, the viability study prepared by SBI Capital Markets and independent consultants.

"Our request for additional working capital has been acknowledged by the consortium and is subject to individual bank approvals," it said.

A 13-bank consortium led by State Bank of India (SBI) had earlier said that it would not further lend to Kingfisher till UB Group infuses equity.

In another development, tax authorities have attached bank accounts
of the airlines.
"However, this has happened in the past not just to us but also to Air India. We have resolved issues before and will do so again," the Vijay Mallya-promoted airline had said.
One of the consortium lenders Oriental Bank of Commerce Executive Director S C Sinha said, "Banks are considering the proposals of Kingfisher as per the decision taken in the consortium meeting. Each bank board has to take a decision (on grant of working capital)."
He, however, declined to give the quantum of the working capital requirement of the the airline citing confidentiality issue.
Meanwhile, air services of cash-strapped Kingfisher Airlines were badly hit yesterday with almost half of its flights from major metros cancelled or delayed, causing hardship to passengers and prompting aviation regulator DGCA to contemplate action against the beleaguered carrier.
A big number of flights, including 16 from Mumbai and seven from Kolkata, four from Delhi were cancelled. These included destination flights to Singapore, Bangkok, Dhaka and Kathmandu.