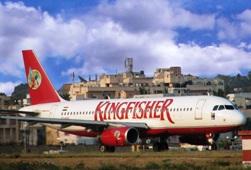 Alarmed by never ending crisis in Kingfisher, its lenders are holding an emergency meeting in Mumbai to discuss the future of their exposure to nearly-bankrupt carrier.

For the last five days, operations of the airline have been grounded completely due to a strike called by the engineers and a section of pilots demanding immediate release of salaries stuck for over seven months.

It was immediately not clear if officials from Kingfisher Airlines are also present at the meet under way at the State Bank of India's headquarters in South Mumbai.

Hopes of Kingfisher resuming operations on Friday faded on Thursday with last ditch efforts by the management to persuade striking engineers and pilots to return to work failing
to end the deadlock.
Civil Aviation Minister Ajit Singh also expressed doubts whether the carrier, facing a partial lockout, will be able to fly from Friday.
Civil aviation ministry officials and the sector regulator have repeatedly said that they will not allow resumptions of flight till the matter of safety is completely taken care of.
Bankers had last met Mallya in Bengaluru last week wherein it was reportedly decided to meet again in 2-3 weeks time to assess the situation.
About 17 banks collectively have an exposure of Rs 7,000 crore (Rs 70 billion) to the airline which once prided its service.
That apart, the lenders together hold around 23 per cent in the airline since March, after the banks converted their Rs 6,500 crore (Rs 65 billion) of recast debt (after the November 2010 CDR) into equity.