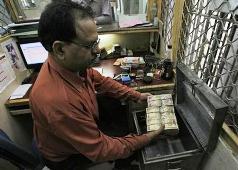 YES Bank, IndusInd Bank, ICICI Bank, Union Bank of India, BoB, HDFC Bank, BOI and PNB are down 5-11% on the NSE.

Banking shares are down up to 11% after the Reserve Bank of India has increased the policy repo rate by 25 basis points from 7.25% to 7.5% with immediate effect.

YES Bank, IndusInd Bank, ICICI Bank, Union Bank of India, Bank of Baroda, HDFC Bank, Bank of India, Punjab National Bank and Federal Bank are down 5-11% on the National Stock Exchange.

The NSE banking share index Bank Nifty was down nearly 6% as compared to 2.2% fall in benchmark CNX Nifty at 1110 hours.

Repo rate is the rate at which RBI lends to commercial banks generally against government securities.

The increase
in the Repo rate will increase the cost of borrowing and lending of the banks which will discourage the public to borrow money and will encourage them to deposit.
WPI inflation, which had eased in Q1 of 2013-14, has started rising again as the pass-through of fuel price increases has been compounded by the sharp depreciation of the rupee and rising international commodity prices, RBI said in a mid-quarter monetary policy review.
However, the current assessment is that in the absence of an appropriate policy response, WPI inflation will be higher than initially projected over the rest of the year.
What is equally worrisome is that inflation at the retail level, measured by the CPI, has been high for a number of years, entrenching inflation expectations at elevated levels and eroding consumer and business confidence.
Although better prospects of a robust kharif harvest will lead to some moderation in CPI inflation, there is no room for complacency, the RBI said.