With wage hike negotiations between the management and workers of Hero MotoCorp remaining inconclusive on Monday, production at the Gurgaon facility of the country's largest two-wheeler maker is likely to be affected.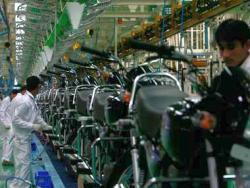 Representatives of the Hero MotoCorp Workers' Union (HMCWU) on Monday said employees at the factory were considering sterner measures, including slowing production processes from tomorrow, to press for better wages.

An HMCWU office bearer told Business Standard: "The management is refusing to consider our demands. We have so far been protesting peacefully but will go slow on production work from tomorrow."

A company spokesperson said: "We have had several rounds of talks with members of the union with the hope of a reasonable, sustainable and sensible settlement. We will continue to engage with the workers towards achieving this objective of reaching an amicable solution, without allowing ourselves to be coerced into decisions governed by external pressure tactics."

At a meeting of the workers and the management at Gurgaon's additional labour commissioner's office this morning, the company stuck to its previous offer of a Rs 7,500-a-month hike, spread over three years, for the permanent workers at its Gurgaon unit. This was less than half of what the workers have been demanding.

"We produce 6,000-7,000 two-wheelers at the Gurgaon unit. That's more than what Honda's Manesar unit produces. Why should we not be given a hike similar to that
given by Honda?" said an HMCWU member.
The workers have been asking for similar increment to Honda's Manesar unit, where a 50 per cent wage hike was announced recently.
Hero MotoCorp employs around 1,200 permanent workers and 4,000 contract ones at its Gurgaon facility.
The average salary of a permanent worker at the factory is around Rs 32,000 a month. This goes up to as much as Rs 38,000 for the more experienced employees.
BITTER BATTLE BREWS
The demand: A monthly wage hike of Rs 15,000-18,000 over a three-year period. Negotiations have been on for more than six months
The battleground: Hero MotoCorp's Gurgaon unit
The participants: The management and Gurgaon unit workers — 1,200 permanent and 4,000 contract
At stake: The 6,000 to 7,000 two-wheelers the company produces from its Gurgaon facility every day
The 'insufficient' offer(s): The firm had in 2011 offered an increment of Rs 6,500 a month, similar to that at its Dharuhera facility. It last week revised the offer to Rs 7,500 a month