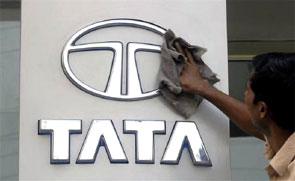 Auto major Tata Motors on Wednesday reported 36.71 per cent decline in its consolidated net profit at Rs 3,945.47 crore (Rs 39.45 billion) for the fourth quarter ended March 31.
The company had posted a consolidated net profit of Rs 6,234 crore (Rs 62.34 billion) in same quarter of the previous fiscal, Tata Motors said in a statement.
Consolidated income from operations was Rs 56,001.64 crore (Rs 560.02 billion) in the quarter as against Rs 50,907.90 crore (Rs 509.08 billion) in the year-ago period, it added.
For the financial year ended in March 2013, the company had posted a consolidated profit of Rs 9,892.61 crore (Rs 98.93 billion) as against Rs 13,516.50 crore (Rs 135.16 billion) in the previous fiscal.
Tata Motors' consolidated net sales in 2012-13 were at Rs 18,8817.63 crore (Rs 1,888.18 billion) compared to Rs 16,5654.49 crore (Rs 1,656.54 billion) in fiscal 2011-12.
In a separate filing, Tata Motors has informed BSE that its Board of Directors has recommended a dividend of Rs 2 per ordinary share and Rs 2.10 per 'A' Ordinary share, both of face value of Rs 2 each.
Tata Motors shares on Wednesday closed at Rs 303.80, up 2.69 per cent from previous close on the Bombay Stock Exchange.